Sunset Night Beach Couple Photoshoot with Raymond & Serena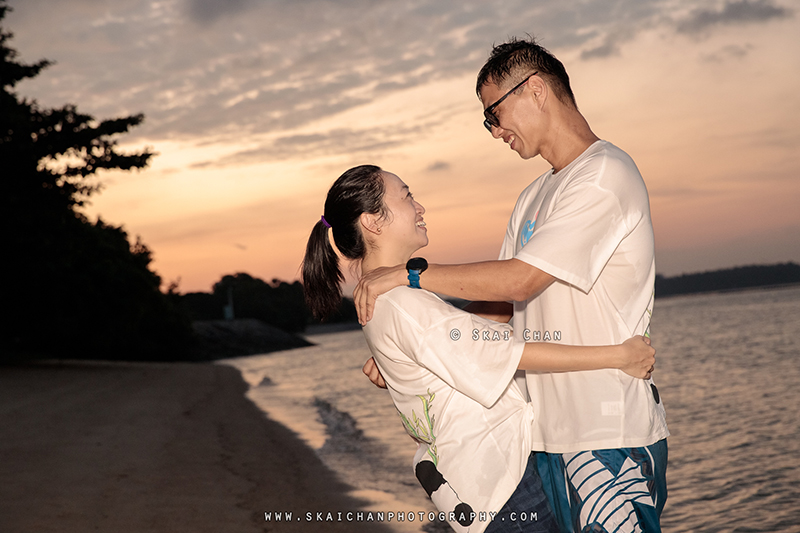 As the sun dipped below the horizon, casting a breathtaking palette of warm hues across the evening sky, we found ourselves at the tail end of an enchanting beach couple photoshoot with Raymond and Serena at Pasir Ris Park.

Nature had gifted us with a magnificent sunset, a canvas of colours that painted the sky with its splendour. However, there was a slight twist to our sunset encounter. Our agreement for this shoot had been centred around capturing natural light moments without the use of flash. So, when I gazed at the mesmerising sky and knew that the best way to frame Raymond and Serena against it would be as silhouettes, I couldn't help but feel a tinge of regret. I conveyed this to them, explaining that the resulting photos would be striking silhouettes against the stunning backdrop.

To illustrate my point, I quickly took a test shot and showed them the result. To their credit, they understood the situation and gracefully accepted the artistic choice. But I wanted to go the extra mile to make them happy. With their consent, I requested just a few more minutes. Hastily, I ran to retrieve my speedlite and a small reflector from my equipment bag, mounting them on top of my camera.

I made it clear that while this makeshift lighting setup would indeed balance their faces with the resplendent sky behind them, the quality of light wouldn't match that of my larger off-camera softboxes, a detail I felt compelled to share since I had recently executed a spectacular night couple photoshoot with a more professional lighting arrangement for them. As I had thought, they were incredibly understanding and didn't dwell on the technicalities, especially when it was a big bonus for them outside of the booked hours.

In the end, the photos we captured were the best I could achieve under the circumstances. Most non-professionals wouldn't discern the subtleties in light quality, but I wanted to be forthright about the difference.

As we wrapped up our photoshoot near the serene tree-lined area, Serena leaned in and lowered her voice, sharing a secret surprise she had in store for Raymond. She had purchased a watch that he had longed for and was eager to present it to him during our time together. Given the somewhat awkward situation, the dim surroundings and the lack of an ideal backdrop, I suggested that we save this heartfelt moment for our dinner, where they'd be more at ease.

With that, I didn't stow away my camera; instead, I let it hang from my shoulder as we made our way to a charming beachside bar. Once we settled into our seats, I prepared for the impromptu photo session ahead. I adjusted my flash's colour to harmonise with the restaurant's ambient lighting and pretended to be taking a casual photo for them with the food. After the test shot, I signalled to Serena that the time was right.

These simple snapshots, captured with an extra dose of effort, were destined to become cherished mementoes, preserving the joy of the surprise gift and the warmth of their love for years to come.
Featuring ↬
Raymond & Serena
Hairstylist ↬
-
Makeup Artist (MUA) ↬
-
Wardrobe ↬
Raymond & Serena
Camera ↬
Canon 6D Mark II
Lens ↬
Canon 24-70mm F2.8L II
Lighting ↬
Godox V1C
Place ↬
Pasir Ris Park
Date ↬
03 August, 2023
Photo Editing type ↬
Basic
💲 Photographer's fee ↬
Prices & packages for Couple photography
Check out the details on how I craft my portfolio pages and the disclaimer on the write-ups.

Follow my Instagram & Facebook to get more updates.
Other Couple Photoshoot
Portrait photography > All albums > All Couple albums