Lifestyle Beach Bikini Photoshoot with Katherine Whiteway (Nekotsurin)




This set of bikini designed with flowers gave a lively feel and thus I suggested doing a lifestyle concept. I wanted to bring out Katherine's liveliness to give a sunshine girl vibe.

It was a rainy day and I was uncertain of the weather condition; hence, I initially suggested switching to studio shoot instead but Katherine was adventurous. It turned out that the weather showed mercy on us.

Fortunately, we worked with Ivy who saved the day. With a big delay before the start of the makeup, Ivy had to make changes to her schedule so that she could do a proper makeup for Katherine without skipping any step. In fact, she spent more time and effort than usual. She also gave Katherine a lift to save us time as we raced against the setting sun.

Since the extremely uneven ground would be giving problems to the use of my artificial lighting, I kept it to natural light. Besides, it was impossible for me to bring my lighting into the water without an assistant. It was also easier for us to switch spots.

The most annoying thing was the barricades all over the beach that restricted the angle of my shoot.

I appreciated that Katherine made effort to push herself beyond her boundaries as she sat on the sandy rock and stepped into the sea water. She also didn't mind hardship and explored the location with me. With her full cooperation, we were able to create a set of lively album.
Featuring ↬
Katherine Whiteway (Nekotsurin)
Hairstylist ↬
Ivy Tan
Makeup Artist (MUA) ↬
Ivy Tan
Wardrobe ↬
Katherine Whiteway (Nekotsurin)
Props ↬
Katherine Whiteway (Nekotsurin)
Camera ↬
Canon 6D
Lens ↬
Canon 24-70mm F2.8L II
Lighting ↬
Natural light
Place ↬
Palawan Beach (Sentosa)
Date ↬
27 July, 2020
Photo Editing type ↬
Advanced
Disclaimer for write-up
Other Swimwear / Bikini Photoshoot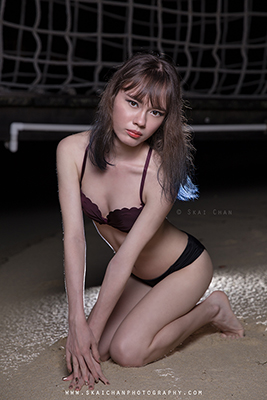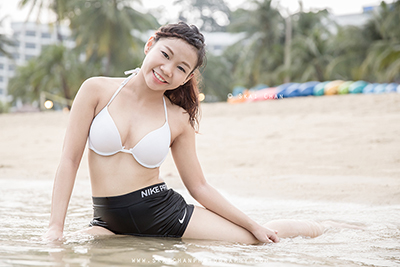 More
Swimwear / Bikini
albums Portrait photography > All albums > All Swimwear / Bikini albums
Page last modified on Thu, 26 August 2021