Wedding/ Marriage Surprise Proposal Photographer in Singapore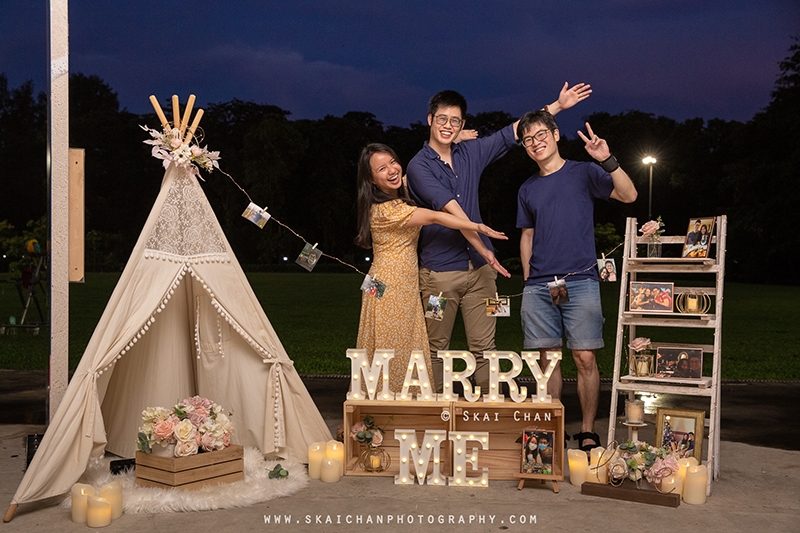 If you're looking for a surprise wedding/ marriage photographer, you're probably advancing towards the next phase of your happy life. Congrats!
---
Quick Navigation:
Surprise Wedding Proposal Samples
---
Wedding Proposal Photography Rates & Packages
Package 1
$250
Proposal photography
Up to 60 minutes
Package 2
Photos (Up to 50 photos/hr) will be returned in high resolution JPG format.
Photos will be enhanced with basic editing.
Please read 1) Checklist for hiring a photographer, 2) FAQ & 3) Service Agreement before making enquiries.
The prices are quoted to compensate for the amount of effort and time I've to spend, and wear and tear of equipment, in order for me to continue with my photography services. Thus, I'm happy to work on any package.
Ideas and advice will only be given to serious clients after a booking fee is being placed.
Add-Ons (optional)
Professional hairstyling & makeup: 1 look at $150 for ladies; $120 for men. There's a surcharge of $50 for any session that starts before 6am. Please enquire for final prices. I don't take any commission from the HMUAs to ensure that they provide the best services to you at their best rates.
Additional photos with advanced enhancement (skin retouching) at $40/photo; discount of $10/photo if any HMUA under my list of HMUAs (hair and makeup artists) is hired.
$100 for privacy of the photos (photographer will not put them up on portfolio & social media).
Express delivery of photos: check rates & availability with the photographer when seeking quotation.
Surprise Wedding Proposal Samples
Planning a surprise wedding proposal doesn't need to be very complicated nor expensive. Of course, if you're a romantic person and you have some budget, you can consider some set-ups.
I. Fake Company Corporate Photoshoot
This is a simple and sweet surprise wedding proposal.

Brian arranged with Claudia's colleague to stage a solo portrait photoshoot for her company while he was still in the USA. I was the appointed photographer who had to bring Claudia to the exact location. Brian was waiting over there and proposed to her.
II. Blindfolded to the Wedding Proposal Set-up
Anthony set up some decoration items for his surprise wedding proposal with the help of his friends. As it drizzled, the props were moved from the romantic beach to a nearby location under the shelter, unfortunately, not with the best natural lighting. He then went over to fetch Divlynn over. He had her blindfolded at the carpark and brought her over to the scene before he started proposing to her.
III. In the Midst of the Couple Photoshoot
Keagan staged a couple photoshoot with me to give Nancy a surprise wedding proposal. On the actual day, we went ahead with a simple couple photoshoot. In the midst of the shoot and after getting the light exposure properly, I signalled to Keagan and he started proposing to Nancy.
Why Work with Skai for Your Surprise Wedding Proposal?
Photo quality
You will get the best quality photographs possible, given each situation; simply look through my website to gauge the quality of my work. You can count on luck to get some good photographs but you can't count on luck to get many good photographs; it requires photography skill and experience.
Advice in planning for best lighting possible
I would point out the possible problems regarding your planning that may affect the photo quality, mainly with the lighting.
Full coverage
I do journalistic style of photography for events; I will cover the entire event to piece it up like a story. That means I don't only take photographs of the important scenes but I also take candid shots to capture memorable expressions throughout the event.
Expertise in Portraiture
I differ my portrait work a lot from others'. I focus on flattering, eye-catching, and natural photographs. I have worked with many couples for their couple photoshoot.
No over-promise
No boasting. I believe in under-promise and over-delivery. I don't promise the sky and end up causing disappointment. You can read the testimonials given by my clients.
If you're looking for a photographer for your wedding proposal, do contact Skai for discussion.
You may be interested in:
- ROM/ solemnization wedding photographer in Singapore
- Pre-wedding/ bridal portrait photographer in Singapore
- Actual day AD wedding photographer in Singapore
- Events & parties photographer in Singapore