Halloween Themed Zombie Photoshoot with Charis Tan Mei Xuan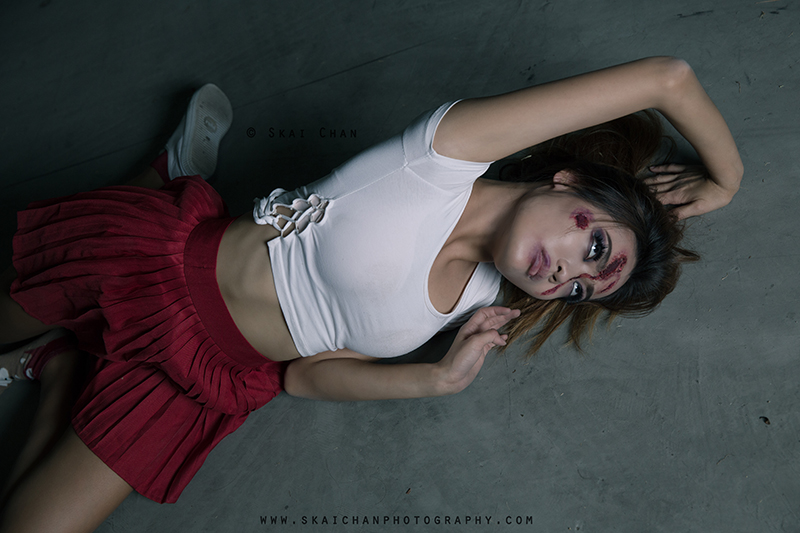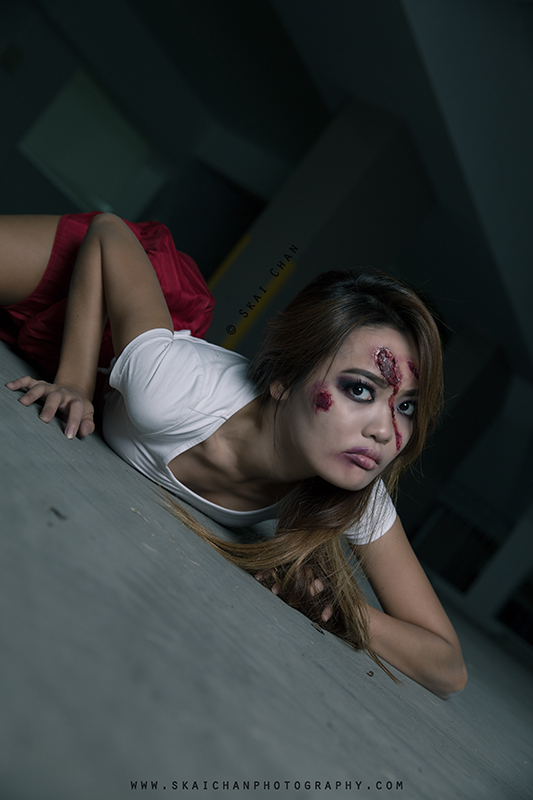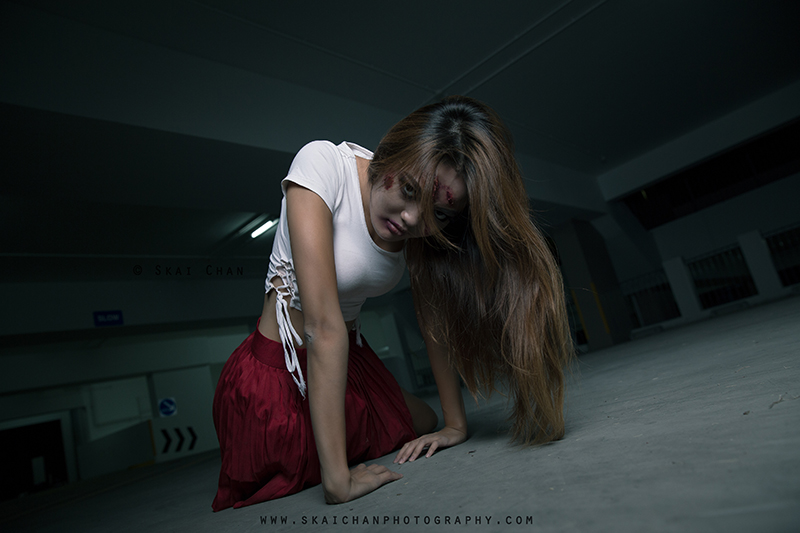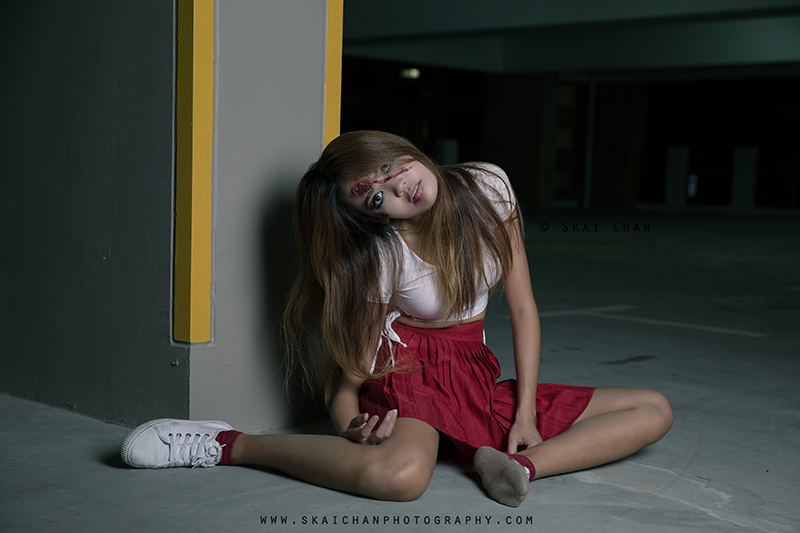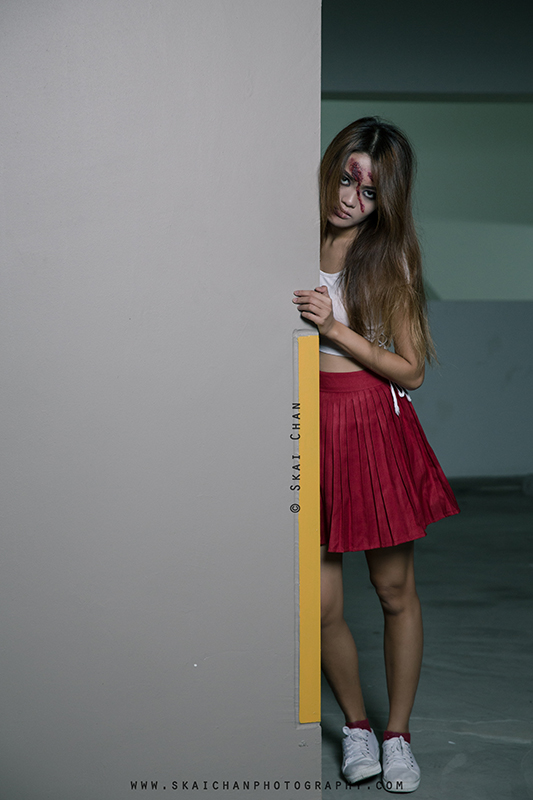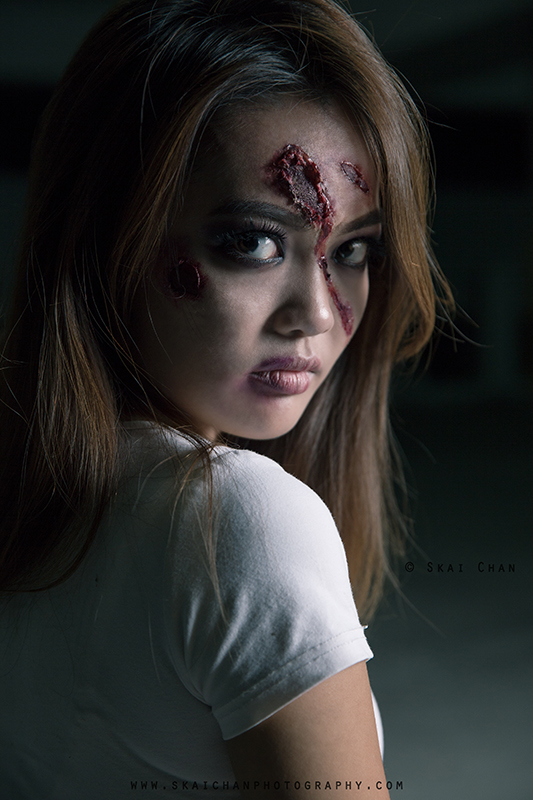 Charis was a high school girl who was aspired to become a K-Pop star. Due to her popularity in school, she had drawn jealousy from her schoolmates, especially those who had the same dream as her. During the period when a Korean company was auditing for a new sign-up, a competitor lured her to a rural chemical factory in the late evening and spiked her drinks. She limped to the carpark and finally collapsed. Despite having her arch rival murdered, the evil competitor wasn't satisfied and disfigured the goddess of thousands of young chaps. Meanwhile, a weird pungent smell spread over, so disgusting that even the cold-blooded murderer who at the point of time, with an unsounded mind, had to escape. Hours later, Charis rose but little could we see any of her old innocence.

This shoot was tightly arranged among everyone's busy schedule. It was the only evening that Ivy was available within that period. Charis made the sacrifice to amend her schedule so that we could do the shoot that evening. As for me, I had earlier on turned down a client's request while the initially scheduled shoot was being called off. Both Ivy and Charis were involved with a charity work right before the shoot.

As usual, I had a tough time deciding what to bring along. The problem was that it was an evening outdoor shoot and thus more lighting might be required, including to light up the background. We actually planned two styles, which I would want different kinds of light to create the different moods. With different equipment, I would also have to use different carriers.

As the clock tickled, Ivy had to perform magic to speed up the makeup, including the creating of the wound. In order to save more time, we decided to change the venue of the shoot to somewhere nearby. Before they were done, I left to recce the new venue first.

Initially, I tried to set up two lighting - main light and hair light - but later decided to keep it simple. I made use of the existing ceiling lights and my setting to prevent the background from going completely dark; or otherwise, we would be better off doing an indoor shoot with a black backdrop at the luxury of air-conditioning instead.

The most fulfilling thing of the evening was to watch Charis perform. With just some simple instructions, she was able to get into the mood and impress me with her body language. It was the combination of her intelligence and flexible body.

The greatest challenge was as usual, the dim ambient light that made focusing difficult. With the very directional light from my softbox to refrain the light from spitting all over the place, I also had to make adjustment to the angle every now and then. I was glad that Charis was very patient.

The makeup, together with the body language, created a very interesting Halloween themed art work.
Featuring ↬
Charis Tan Mei Xuan
Hairstylist ↬
Ivy Tan
Makeup Artist (MUA) ↬
Ivy Tan
Wardrobe ↬
Charis Tan Mei Xuan
Camera ↬
Canon 6D
Lens ↬
Canon 24-70mm F2.8L II
Lighting ↬
Godox AD600B
Place ↬
Hougang Carpark
Date ↬
05 October, 2019
Photo Editing type ↬
Advanced
Disclaimer for write-up
Other Themed Photoshoot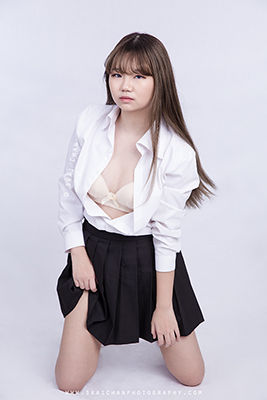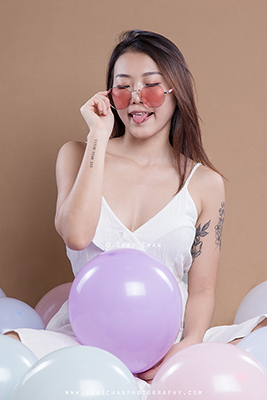 More
Themed
albums Portrait photography > All albums > All Themed albums
Page last modified on Thu, 26 August 2021