Lifestyle Botanical Garden Photoshoot with Erica Chan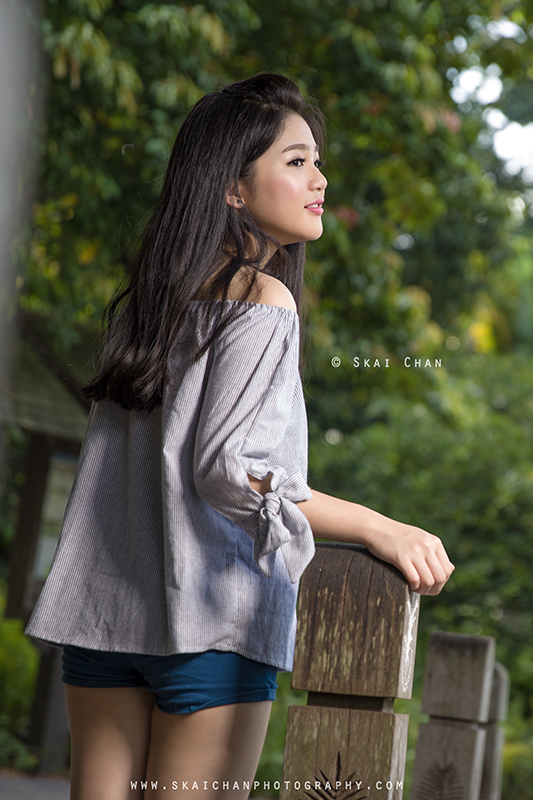 The planning phase for this botanical garden photoshoot was hectic for I had days of intense discussion with Vivian. It was the first time we were working together and we did not expect each other to be very into details - at first we were hesitating to voice out about stuffs. Erica was a very cooperative model who took her time and effort to try on different clothes before sending the pictures to Vivian for our discussion. I was very glad for most clothes would look very different when they were being worn because of the cutting, material and individual model's figure - nobody could judge them properly if they were simply being placed on the bed for phototaking. We went through quite a number of combinations of clothes that would suit both Erica and the theme.

Both Vivian and Erica sacrificed their sleep to get up early to prepare for the morning shoot. As a night owl, I only had an hour of sleep since the shoot was scheduled at a very early hour. We met up soon after sunrise but the journey to the exact location was rather long.

It was a day packed with obstacles. We were greatly welcomed by a parade of people and that was the reason I would avoid shooting on weekends for many venues. The most unexpected situation was the trimming of some plants that I had planned to use as the backdrop - the workers were as though laughing at me with their tools on hands, having probably three-quarter of their job done. The band stand was, as expected, being occupied by other photography teams almost all the time. Next, the sky was clear and thus the contrast of the surrounding's lighting was terrible. It was very difficult to find good spots for my standard of demand - some places could be beautiful but the lighting at the point of time could be bad. The weather forecast was a disaster.

Since it was the first time I got to talk to Erica, I was expecting some barriers. The worst thing would be having differences in our expectations. Erica was, however, very accommodating and willing to follow instructions. It took us just a while to warm up to each other. At times, she would give some child-like poses to lighten the atmosphere. With her beauty and sweetness, her parents would probably be very worried about her safety.

Shooting with a hair and makeup artist tagging along was one of the most essential things for a photoshoot, although many clients would be concern about the extra cost. Vivian was actively touching up on Erica's makeup and hair. It greatly reduced the stress on the photographer (in this case, it is me), for he had many loads on hand behind every click - background, lighting, composition, focus point, model's gesture and expression... etc. That was also a point of time Erica accidentally smudged her makeup using her hand. I was very blessed that Vivian was around.

The most embarrassing thing that could happen during a shoot was getting lost in the garden. Although both of them had a long day on the previous day, they tried very hard to defy their physical and mental exhaustion, especially under the warm weather.

Just like all my previous projects, I made sure I could learn new things and I got to understand more about my new strobe. At a point of time, I was caught unaware when my strobe went bersek. Since my hands were full, I left my camera hanging around my body and the radio trigger's setting was accidentally meddled. It took me quite some time to figure out what had gone wrong that had caused the power of my strobe to be unchangeable.

Towards the ending part of the shoot, the sky finally showed some mercy as small clouds started appearing. We were given a couple of chances when some clouds finally blocked the sun to remove the extremely strong and harsh lighting at the background but they did not last longer than a minute.

The results have proven that our hard work throughout the shoot is worth it.
Featuring ↬
Erica Chan
Hairstylist ↬
Vivian Chong
Makeup Artist (MUA) ↬
Vivian Chong
Wardrobe ↬
Erica Chan
Camera ↬
Canon 6D
Lens ↬
Canon 24-70mm F2.8L II
Lighting ↬
Cononmark I6M
Place ↬
Singapore Botanic Gardens
Date ↬
14 January, 2017
Photo Editing type ↬
Advanced
Disclaimer for write-up
Other Lifestyle Photoshoot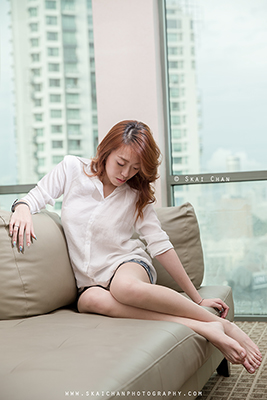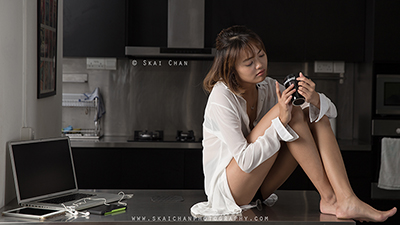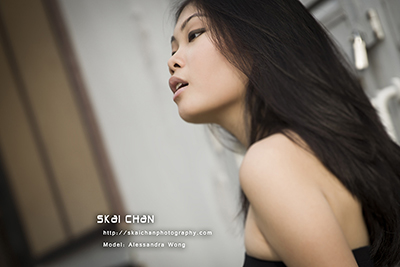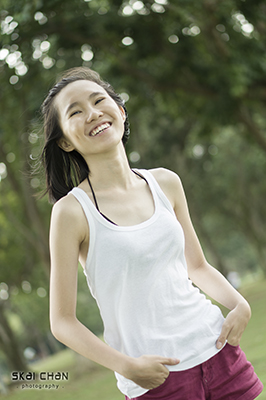 More
Lifestyle
albums Portrait photography > All albums > All Lifestyle albums
Page last modified on Thu, 26 August 2021