Fashion & Night Fashion Photoshoot with Marjorie Lining




I started my photography Instagram account late. Just as I was in the very early stage of uploading my backdated work without flooding my followers' newsfeed, Marjorie commented on one of my work. I was sceptical of the "new platform" because there were somehow different behaviours of people at different platforms. I didn't expect her to be serious in engaging my photography services until she started messaging me in my Facebook page and showed her enthusiasm. We had very good discussion and she was appreciative of the suggestions and advices I gave.

The weather was bad with a sudden downpour in the late afternoon. I was a little soaked by the time I met up with her because of the merciless wind. This, however, gave me more time to interact with Marjorie face to face to create rapport.

Marjorie was a child at heart. It was probably due to her positive mindset and the virtue of showing appreciation. Thus, it was comforting to have her around. She also had a soft character that further drew people to her and I believed it was difficult to piss her off. She was open to sharing of her stories and helping to keep conversation going.

The drizzling refused to stop just like granny's nagging and I was quite worried that we were losing light fast. I had to skip some of my plans to explore the garden and go directly to the main location. The amount of light was miserable by the time I got her to start playing with the props. I was glad to see a happy lady.

Since Marjorie was very accommodating and didn't mind travelling longer and having a much later dinner, I decided to give her a night shoot with the professional lighting. Therefore, I didn't set up any light at the supposed-to-be final location because it would take up lots of time for setting up and dismantling them.

We moved to the Supertrees at the heart of the Gardens by the Bay. I was using my new hand trolley so that my legs wouldn't be killed by the heavy equipment but I realised my hands were "amputated" by the load instead, especially when I made a big mistake of hanging load at the handler as it would require more strength at a higher placement. By the time we got to the trees, my hands were both shaking, but I had to pretend to be perfectly fine in front of the model. The darkness had probably hidden my fatigue face. The place was crowded with tourists. Before I finished my two-light setup, the light and music performance had begun. I didn't want to be bashed up by the audience with constant flashing of my lighting and thus we waited for the show to end.

I was glad that I had made a good decision to let Marjorie feel like a professional model because even the couples who were doing pre-wedding shoot over there had only a bare speedlite without any light modifier. With the crowd dispersing, the background was much cleaner even though there were still many photobombs around. A Caucasian lady made the night by doing a photobomb right next to Marjorie and I didn't miss the chance to snap a shot of it. I could have done much better if any of my assistants was available. I was glad the wind speed was slow by then (I had already done my research) and I was proud of my endurance. Of course, I was even happier with the end result.
Featuring ↬
Marjorie Lining
Hairstylist ↬
Unknown
Makeup Artist (MUA) ↬
Unknown
Wardrobe ↬
Marjorie Lining
Props ↬
Skai Chan
Camera ↬
Canon 6D
Lens ↬
Canon 24-70mm F2.8L II
Lighting ↬
Cononmark B4, Yongnuo YN560 EX-III
Place ↬
Gardens by the Bay
Date ↬
11 May, 2016
Photo Editing type ↬
Advanced
Disclaimer for write-up
Other Night Outdoor Photoshoot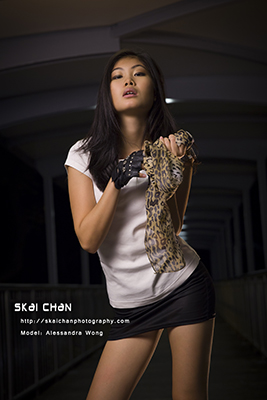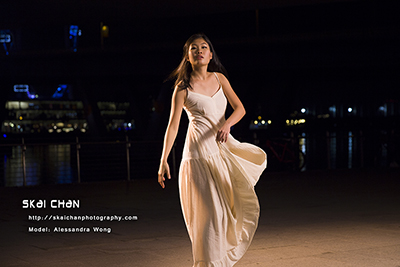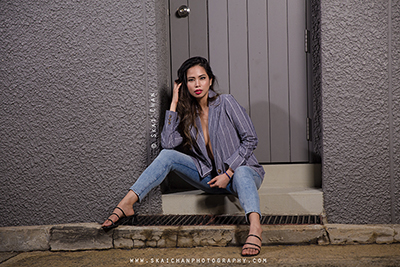 More
Night Outdoor
albums Portrait photography > All albums > All Night Outdoor albums
Page last modified on Thu, 26 August 2021