Scammers Impersonating Skai Chan
I don't know if I should feel honoured and flattered by the scammers. Usually, only the babes and celebrities face such problem.

Yes, I've been a victim of impersonation in social media, such as Facebook and Instagram. Unfortunately, the social media companies may not remove the fake profiles immediately. I won't blame the companies since there are probably many such cases because they have millions of users.

Even within less than half a year after I created my photography account in Instagram (@skaichanphotography), I have noticed there are already around four or five fake accounts of mine. It takes Instagram quite long to remove a few of them even though I have reported the accounts a few times.
Motive
I assume most scammers are of male gender. Most of their motives is mainly to trick girls into sending them sexy or nude photographs, or even do it live in webcam. The scammers are using my name because of the quality of my tasteful work.
Points to note:
1) As of now, I didn't have a team of photographers.
2) I use standard English for official work; my language skill isn't perfect but I don't use broken English.
3) I'm a freelance photographer and clients pay me to shoot - not the other way.
4) I have never ever paid any model in my entire life and I don't have to.
5) I don't do "30-minute" shoots unless the client is willing to pay me the amount of a two-hour shoot for that half an hour.
(1) Impersonation Case - lawanwsw - Instagram
Known date: June 2017

Singapore Police Report No. A/20170604/7011

The scammer is last known to have changed his/her username from "lawanwsw" to "appletikat_".

I came into picture of this scammer when a girl messaged me in Instagram to double check with me about the offer.



Someone by the name of "Lawan", claiming to be from "skaichanphotography", had messaged her to offer her money to do a shoot.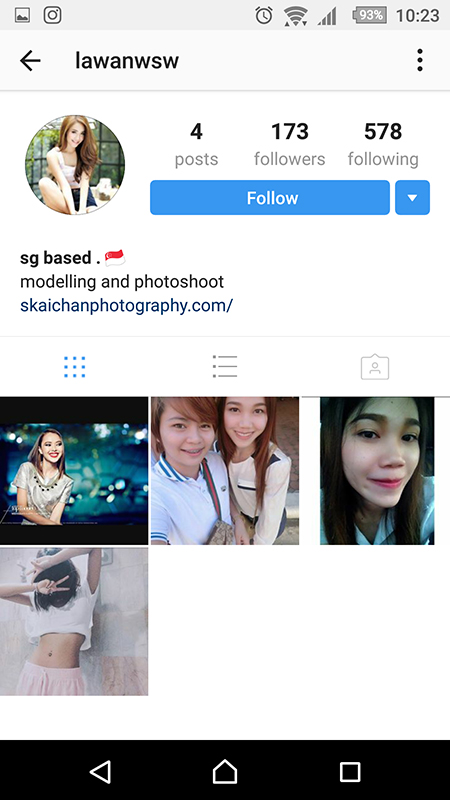 The scammer had indicated my url in the website section inside his/her profile. Three out of the four photographs uploaded were very casually taken.



On the caption of one of his/her posts, it was mentioned that "we" were paying models for shoot. The photograph was embedded with watermark "top model 3" and obviously not mine. It wasn't even my style of shooting.

Some of my female friends had helped me to message him to find out more about his motive. We realised he was trying to con girls into sending him their private sexy photographs in order to be qualified for the "job".
(2) Impersonation Case - Kevin Jones - Email
Known date: September 2018

Name: Kevin Jones
Email: asianmodelwork@gmx.com
Skype: kevin677788

I was notified by a freelance model friend who was based in Thailand most of the time. She had an account in ModelMayhem and the scammer seemed to have sourced her email address from her profile.



The scammer started off by sending her an email with a paid job offer.



He then requested for discussion via Skype.



During the Skype discussion, my friend asked him for the agency he was representing and he stated my website.

It was the worst move ever.

He probably didn't guess that I would have model friends who stayed in other countries. Besides, even if his to-be-victim didn't know me, looking through my website would pose suspicious.
"Hello guys and especially young woman who are model or want to become model. Take good care of this name and email. He pretends to be manager of a model agencies and cast on Skype. He asks the model to show naked online for different reasons. After, the nude pictures are published on porno websites . This is not a real agency. Just a porno freak!. Even real porno casting agencies are more serious and more direct. Keep it in mind. Stay away from asianmodelwork. #fake #fakeagency #fakeasspeople #fakeagents #scammer #scam #liar #lies #criminal"
Anyway, a simple Google search on his email address "asianmodelwork@gmx.com" would show that he's a scammer. The domain name "gmx" belongs to a website that provides free email accounts, similar to GMail, Yahoo Mail and Hotmail, which anyone could easily sign up for one. That means this scammer can easily sign up for another free email address to continue to scam people.
(3) Impersonation Case - HC Sam - Social Media
Known date: 27 December 2018

Name: HC Sam
Okcupid: https://www.okcupid.com/profile/11790184649889070675 (removed)
Facebook: https://www.facebook.com/dominic.charge.1/timeline



I was first notified by a friend to this Okcupid account that uses two of my photographs. After filing a report on the website, the photographs were somehow removed by the next day. As of 22 January 2019, the Okcupid profile has been removed.

About a month later, another friend messaged me to inform me about this scammer. Her friend got in touch with him and as he was looking for a model, her friend recommended her to him. Hence, she eventually got hold to his Facebook profile.

"For players under level 30, add me and my code 107914483371198 for more bonuses."



After this scammer sent my friend my photographs, my friend recalled they were mine and thus realised he's trying to impersonate me. She didn't do any photoshoot with him.

Since he won't be showing his real face even if my friend were to agree to do a shoot with him, I assume he's just trying to cheat her for private photographs during the "planning".
Fake profiles
The following is a list of fake social media accounts (I didn't keep track of the rest)
- https://www.facebook.com/profile.php?id=100008329246932 (removed)
- https://www.instagram.com/n_cesallid/
- https://www.instagram.com/eisopo_l/
- https://www.instagram.com/appletikat_/ (removed/renamed, previously lawanwsw)
- https://www.instagram.com/meimeixyz_/ (previously lawanwsw)
- https://www.facebook.com/dominic.charge.1

If you come across any fake profile that's impersonating me, do let me know! *love plus hugs*
You may be interested in:
- Photography & Modelling Scams
- Dangers of Doing Sexy Photoshoot for Female Models
Page last modified on Wed, 19 May 2021