Glamour Photoshoot with Claire Soh




Claire was an interesting person. It was difficult to judge her personality at first when she appeared to be nonchalant and quiet. I was unable to showcase my usual cold jokes to try to make her feel more relax since I did not want to step on her toes. I was probably being over cautious, nevertheless, she was spared from my irritants.

We met a Samaritan on the way who gave us a free ride to the planned shooting location but a few of the buildings were already under renovation and we decided to change to another abandoned campus nearby. Luck was not with us since it was a rainy day and the mosquitoes were out to breed while we bled.

Claire did her makeup and hair by herself. It was not a fantastic job but enough to cover her tiny flaws, which was a privilege to me, such that minimal touch-up job was required.

Doing sexy shoot was a great challenge to me as a male photographer. It was rather sensitive and I got to show the model I was mainly interested in getting some art work done and had no intention in taking advantage of her. Another big challenge was that although the outfits were sexy, the model should not be displaying sexy expression and poses for this theme. Fortunately, Claire was extremely easy-going, cooperative and opened to ideas.

I could have played more with my lighting since I had all my gears with me, but the mosquitoes did not welcome us and thus I did not set up my second light stand. The place was also very dirty that nobody would want to stay for long.

We built trust through the shoot. She began to open up more and share her beliefs with me. Although her theories such as different dimensions of lives massacred my brain cells, I was fascinated by her uniqueness. I was happy that she was sharing her thoughts with me, knowing that I had made a new friend through photography again. I loved her being straightforward and honest. Most of all, I was thankful for her trust in me.
Featuring ↬
Claire Soh
Makeup Artist (MUA) ↬
Claire Soh
Wardrobe ↬
Claire Soh
Camera ↬
Canon 6D
Lens ↬
Canon 24-70mm F2.8L II
Strobe ↬
Canon 600 EX-RT, Yongnuo 560 III
Location ↬
Old Brunei Hostel
Date ↬
26 August, 2014
Photo Editing type ↬
Advanced
If you appreciate my work, passion and character,
do show some support by following my
Instagram
&
Facebook
, both at
@skaichanphotography
.
If we have worked together before, do write me a
testimonial
!
Disclaimer for write-up
Other Glamour Photoshoot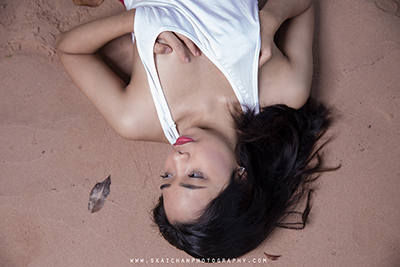 More
Glamour
albums Portrait photography > All albums > All Glamour albums
Page last modified on Wed, 19 May 2021