Sunset Beach Bikini Photoshoot with Kai Ling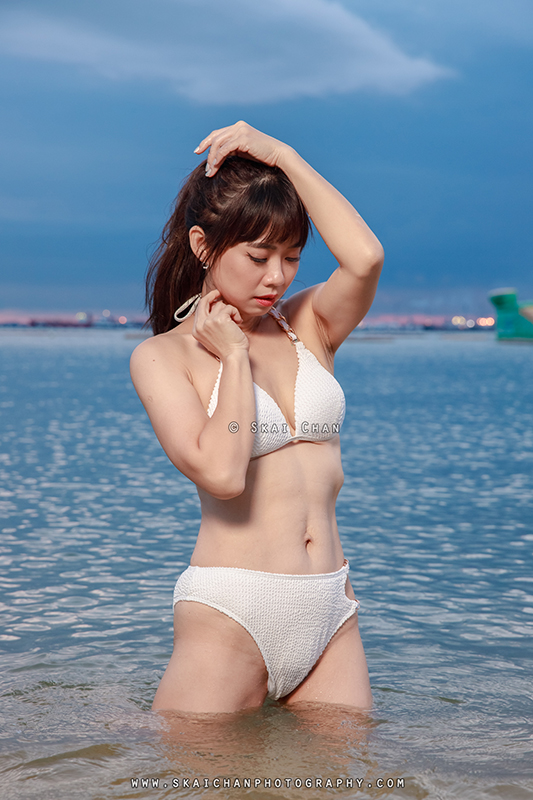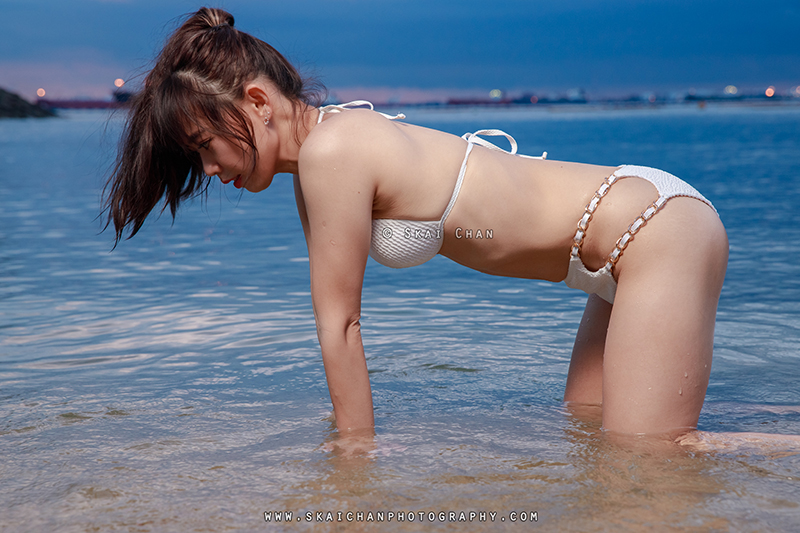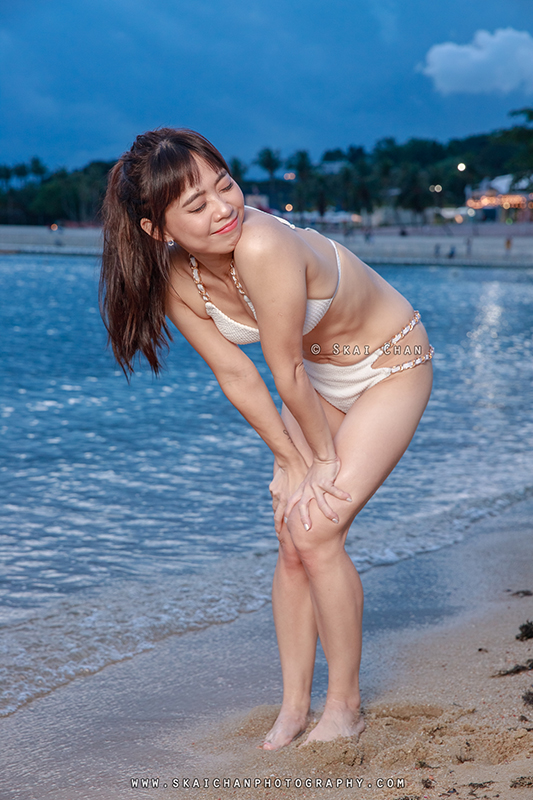 The final set of our beach photoshoot with Kai Ling was a surprise, designed as a special gift to help her grasp the distinctions between flash and natural light photography. This impromptu segment unfolded as we approached the conclusion of our exhilarating session, showcasing the spontaneous creativity that often arises during such shoots.

As we readied ourselves for this unique experience, Ivy, our professional makeup artist, took the opportunity to refresh Kai Ling's makeup, ensuring she looked her best. Ivy's presence proved invaluable, not only in accentuating Kai Ling's natural beauty but also in facilitating unplanned changes and adjustments. While Ivy worked her magic, I diligently set up our professional lighting equipment, eager to capture the essence of this unanticipated moment against the backdrop of the setting sun.

However, nature had its own agenda. The once-promising sunset was veiled by a thick curtain of dark clouds, thwarting my initial vision of creating dramatic sunset portraits illuminated by our professional lighting setup. Nonetheless, we embraced the challenge, adapting as seasoned professionals. We found ourselves on a slope, wrestling with the task of keeping our equipment stable and secure.

Unwanted photobombs from passers-by added an extra layer of complexity to the shoot. Skilfully navigating these interruptions while striving to craft captivating images became our mission. Despite the unforeseen obstacles, we succeeded in capturing some truly beautiful moments during the sunset. Kai Ling's natural grace and poise transcended the limitations imposed by the weather and surroundings, shining through in every shot.

With the photoshoot concluded, Kai Ling kindly dropped Ivy and me off at Vivocity. Unfortunately, she had prior commitments that prevented her from joining us for our late dinner. As we reflected on the day's creative journey, a profound sense of accomplishment washed over us. The last set yielded a collection of truly remarkable photographs, underscoring the role of spontaneity and resilience in defining a successful photoshoot.
Featuring ↬
Kai Ling
Hairstylist ↬
Ivy Tan
Makeup Artist (MUA) ↬
Ivy Tan
Wardrobe ↬
Kai Ling
Camera ↬
Canon 6D Mark II
Lens ↬
Canon 24-70mm F2.8L II
Lighting ↬
Godox V1C
Place ↬
Palawan Beach (Sentosa)
Date ↬
04 July, 2023
Photo Editing type ↬
Basic
💲 Photographer's fee ↬
Prices & packages for Bikini photography
Check out the details on how I craft my portfolio pages and the disclaimer on the write-ups.

Follow my Instagram & Facebook to get more updates.
Other Bikini Photoshoot
Portrait photography > All albums > All Bikini albums