Experience of Photoshooting with Nude Models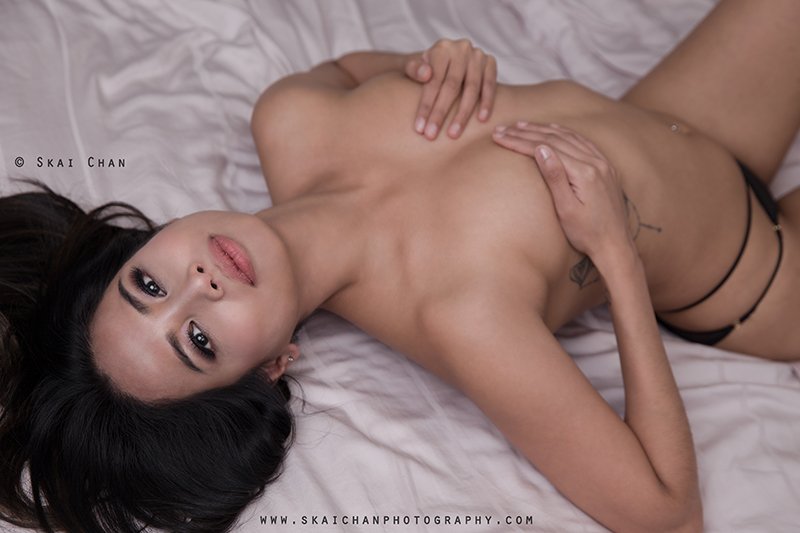 With my experience in doing portrait shoot as a photographer, I have worked with various types of people. I do all kinds of shoots as long as they are tasteful. As some of my shoots are sensual, sometimes I do have friends of both genders asking me about the shoots out of curiosity. I do get questions like "do you get to see zaogeng (wardrobe malfunction)?" or "do photographers have sex with models".

In order not to repeat sharing of my experience and to share more insight into doing a decent sexy shoot, I have decided to write about some of my past experiences of shooting with models who have done nude shoots before.

Every "straight" guy will be interested in getting a "free show" but as a professional photographer, controlling the mind and showing respect to the model is crucial. There is a saying "one should not shit at where he eats" and therefore a professional photographer should not tarnish his reputation in photography.

The greatest advantage of working with models who have done nude shoots is that they are more open-minded and will look more natural in front of the camera for any kind of shoot. I do not imply that they will be willing to do a nude shoot with me but the fact is many artistic and creative shoots do require showing a bit of skin. If you were to do a shoot with a girl who is always "wrapping" herself up, even if she were to agree to do a bikini shoot with you, she is less likely to be comfortable in front of the camera with the amount of cloth.

Unfortunately, most models who do or have done nude photoshoots may also have some common flaws. Firstly, they may be over-confident due to guys trying too hard to suck up to them frequently and they may think they know everything about photoshoots. Thus, it may not be easy to present a different opinion to them or point out their flaws. Secondly, most "photographers" who pay models for nude shoots are likely, not professional photographers and thus have already implanted the wrong knowledge in the models. For example, they may tend to ignore the planning process and they may even demand raw files so that they can do the post-processing work on their own like as if they can do better than the photographer. Lastly, some of the nude models may not have high EQ and will pose communication issues. Of course, since I'm very selective in working with any model in terms of attitude and I'm quite lucky that most of my models are nice people.
Model A
"Model A" was a foreigner who used to work as a freelance model (event and photoshoot) in Singapore for quite some years before going back to her country. She had very good expression for a photo model and she also had big boobs that guys would drool over. Some of her clients paid her for private nude shoots and she told me some businessmen would spend more time chatting with her during the nude shoot. However, she would not take up any indecent request. She would also reject any non-private nude shoot so that her naked body would not be exposed to the public. Unfortunately, her body mass had increased tremendously by the time I knew her and she was no longer staying in Singapore. She had a full-time job and thus she had not been taking up many modelling jobs as well.

Model A contacted me to arrange for a shoot long before she came over to Singapore. The advantages of working with her were (1) her expression, (2) huge boobs and (3) open-mindedness, and (4) I was, naively, hoping that she could tell true friendship - most "photographers" who used to suck up to her when she was slim and healthily hot would skip her now for any tasteful shoot. I knew it would be a challenge for me due to her figure but I thought of a concept that could hide her figure while showcasing her asset (cleavage) stylishly, and she agreed to it.

Since I had quite a number of foreign models contacting me for shoots and eventually disappearing into the thin air, I was initially quite sceptical about Model A's plan to come over. Besides, I was quite worried about our communication since she was quite exposed to "modelling" and might be over-confident with herself. She did postpone her plan once.

On the day of the shoot, I was surprised when I met up with her for her face looked just like a plain Jane. However, I was glad that she was easygoing and independent. Her makeup skill was quite bad but we were lucky that one of my makeup artist friends was available. The late afternoon shoot was delayed but it was worth the wait. As the sun started packing up to end work, lighting was a great challenge. Since we were shooting on a slope, I had problems securing my lighting for any slight of wind would trip them over. As Model A had to be braless for the outdoor shoot, I was cautious of passers-by even though she did not show any fear.

As we finally began with the shoot, the makeup artist, being a model as well, tried to guide her while I battled with my lighting, running and climbing around to change their placement for better angles. Since the material of the outfit was stiff, we had a big problem as her nipples tend to fall out easily. Poses were thus limited. In order to show respect to her, I turned back whenever I noticed there was a wardrobe malfunction. Model A, on the other hand, did not show any sign of awkwardness. In fact, she was so professional and focused that she did not even notice it most of the time and I had to signal to her to adjust the outfit. Throughout the evening, there were many nip slips and I was glad I had an assistant (my makeup artist friend) around to help to spot the error. It was one of my shortest shoots for (1) the model was good, (2) the shoot was difficult to drag on and (3) it was getting too dark.

I was glad that Model A appreciated and trusted me. However, she started teasing me that I was too shy even though I was just trying hard to prove to her (and other models) that not all photographers would shoot with models just for "free" shows.
Model B
"Model B" was an ex-nude model and her nude photographs could be found online easily. She started modelling by doing bikini shoots with her friends to help them. Then, she got offered for private nude shoots and she took up the shoots for the sake of money. She also took up other modelling jobs like events that had given her the opportunity to progress in life. During one of the events, she was scouted by a big brand and had some regular modelling jobs. Eventually, she had a full-time job, moving away from modelling. Somehow, she did not maintain her shape after leaving the modelling world.

Model B sang compliments on my posts (photos) and eventually requested to have a shoot with me. I was a little sceptical at first because I was very worried about her maturity. She was also no longer as slim as in the past and I knew well the shoot would certainly be challenging for me since my style was to make my models look slim. However, I was pleased that she knew her flaws and would admit to them - she called herself fat.

I promised to help her because I wanted to (1) help her regain some confidence and (2) show her she could get better quality photographs than those she received from other photographers, and I wanted to (3) challenge myself and also (4) add the shoot to my portfolio because usual clients would pay more so that the photographs would be private.

Model B was rather straightforward during the initial discussion for the implied nude shoot. I gave her the portfolios of a few hair and makeup artists and she chose the youngest one. Her replies were slow but I thought it was okay since she had already booked the resort for her staycation with her boyfriend. As I was worried about her looks, I asked her to send me some of her recent photographs and each time, she brushed the request off. Many days later, when I checked with her about the hair and makeup artist, she told me she was deciding between the one she had chosen (my friend) and an unknown second one. When I checked with my friend, she showed me their conversation and I realised she had some problems getting replies from Model B as well. On the night before the shoot, Model B suddenly decided to change the venue since she had some problems in her relationship and I was horrified when she told me she had decided not to engage a hair and makeup artist anymore. No matter how inconsistent she was, I could not bring myself to break my promise.

Fast forward to the actual shoot. Model B got me to get her some food before I met up with her. Luckily, she was not picky. She was friendly but looked much older in real person, partly due to her illness and likely due to heavy smoking. Her pimple breakout laughed at me. We had some conversations as I tried to remove any barriers while cooling down. She told me she was not comfortable with a third person around - although I thought it was not a good excuse to not have makeup done by a professional makeup artist, I did not want to be a busybody to educate her and risk creating trouble. The biggest risk I took was to tell her about her inconsistency, which she did not seem to buy it. We also talked about blacklisted photographers. I got to learn more inside stories such as a very popular nude photographer privately admitting he had been sleeping with his models.

As I started setting up my equipment, Model B began putting on her makeup. Unfortunately, I was already expecting an under-satisfactory standard without the aid of a professional hair and makeup artist. While I was still busy with my set-up, she laid her wardrobe (mostly lingerie) on the bed and I was confused since the theme was implied nude and not boudoir. It was also difficult to choose the outfit for her as it had to suit her, the location and the feel. She also caught me by surprise when she told me she did not want to use the bed (in white bed sheet), which was actually very useful to slim her down. Meanwhile, I found a chance to explain to her how it was near impossible to do Photoshop work on a certain type of background in case she would have too high expectations.

Minutes into the shoot, she seemed to be more relaxed and was ready to take off her bra. Somehow, I felt she was simply having too low self-esteem but decided not to waste the shoot. For sure, she could see my setup was professional and that I was different from the photographers who had paid her to do nude shoots in the past. She was probably more comfortable with me.

Eventually, the biggest problem was that I did not want to have any body contact with her, not even "guiding" her on her fingers physically. Just like most people, she also had a bit of a problem differentiating directions "right" and "left". Despite having a lot of experience in doing photoshoots, her confidence level was surprisingly low and it made the start of the shoot difficult. However, she began regaining some confidence soon with my encouragement. She was then able to do her own poses and I would guide her over the minor flaws to improve. Although I preferred lifestyle to supermodel type of poses, somehow, she was more used to the latter as it was the shooting style of most photographers she had worked with, which I thought was good enough.

Since she was either topless or naked for half of the time, it was obvious that her private parts were revealed frequently. In fact, we were working hard to hide them from the lens. She trusted me enough to get changed and also get naked in my presence, and I would always turn away instead of enjoying the "strip show". She was probably experienced enough to sense and also see that I was always avoiding looking at her body even during the shoot and thus she confirmed I was decent. However, as a professional photographer, it was a flaw because I was supposed to look out for errors everywhere, including the boob area. Due to my over-showing of respect, it did cost the quality of some photos - I could have rectified some of the errors.

I tried to utilise the lovely place at every corner. We also tried using some of the lingerie she had brought along. She was very patient in waiting for me to adjust and test the lighting, while she had her smoking breaks. However, she gave up quite easily over some ideas, including hers, before I could think of a better way to present her in terms of poses and lighting. Her final idea was to be clothless again. However, it started raining before we could execute it in the non-sheltered area. She was worried about my equipment and we stopped. She finally felt cold and wrapped herself in the hotel's bathroom robe.

Dinner time was over and we were both hungry. I suggested going nearby for some good and cheap food but she decided to call for delivery instead. While waiting for the food, we agreed to call it a day. She went through the photographs on the small LCD screen of my camera as we chatted. Later, I went down to collect the food. After regaining some strength, I started packing up while she was engrossed in her phone. I tried to pay her for the meal but she was too generous. I felt lost for a while as she told me stories of photographers who did not bother to chat with her as friends after the shoot, which she claimed they should have at least pretended to be friendly. Therefore, I was not sure if she wanted me to leave immediately. Eventually, I asked if her friend was arriving before I made my move.
Model C
It was my first time shooting with Model C. She loved doing nude shoots but I preferred implied nude and I managed to convince her to be accustomed to my style. The reason for covering up the private parts was for the sake of reaching out to a wider audience range; besides, implied nude was more challenging.

However, I didn't like to do anything too mainstream and thus I thought of doing something more artistic. Since she was impressed with my work and had taken the trouble to read about me on my website, she gladly accepted my suggestion.

The problem was that on the very same morning, she suddenly updated me that she had sprained her wrist and thus we might have to change our plan. My makeup artist and I proceeded to her place since she had already booked our time. As usual, I set up my equipment while my makeup artist was doing her styling work on model C. We were all in the living room. There was a moment of silence at first as both my makeup artist and I were in a daze from waking up too early. However, I managed to break the ice after I was done with my stuff. The two girls were chatty.

There were three bedrooms in the house and her female friend (non-occupant) was inside her room. The other two roommates were male. It was actually a day when everything was going wrong. To our horror, the house was supposed to be empty on a weekday but one of her roommates was sick and thus didn't go to work. Model C was very open-minded but it would still be awkward since none of her roommates knew about her interest in artistic modelling.

When the living room was "clear", we began the shoot. Model C alerted my makeup artist (she was younger) before stripping right in front of us - I thought it was funny since she didn't mind about me when I was of the opposite gender. Of course, I turned over to show her respect when she was undressing, even though it was obvious I was going to see every part of her naked body during the shoot. Her open-mindedness helped a lot as it eliminated all awkwardness. With the trust she had placed in me, I was able to relax and do my best, instead of keep worrying that the model would get any wrong idea about me during the shoot.

In fact, I had already seen her body inside her portfolio and thus, nothing was surprising. My makeup artist did her face a good favour to bring out her beauty although she didn't have the perfect look for all angles of the shoot. Her body was, however, going to cause a lot of jealousy among other girls. Unfortunately, she didn't have a pair of beautiful feet.

I was actually a little lost for we had to begin with some normal lifestyle implied nude shoots due to her injury. I wasn't mentally prepared. The setting wasn't the best but I was glad that model C was very easygoing and we got to move her furniture around. She was very patient as I took the time to test the light.

Although she had quite some experience shooting with other photographers, they didn't seem to be paying much attention to small details in her poses, especially her fingers and legs. It was extremely difficult to correct her. She assured me that I could touch her to adjust the poses. I was delighted with the trust but I stick to my principles. I showed her the tiny flaws on my camera's LCD screen and pointed them out to her and she was able to understand them easily. After she got what she wanted - the lifestyle implied nude photographs - she tried out our initial plan and we managed to produce a spectacular masterpiece.

Before her sick roommate got home from the nearby clinic, another dramatic thing happened - the other roommate returned home after touching down in Singapore. We decided she should just get dressed up. She did suggest doing a bikini shoot by the poolside but it was too mainstream for me and besides, the sun was already out. She apologised for the awkwardness and inconvenience and promised to invite me for another shoot in future.
You may like to read:
- How to avoid sexual temptation during a sensual photoshoot
- Survey - questionnaires for nude models
- Boudoir photography tips and tricks
- Dangers of doing sexy photoshoot for female models
- Blacklisted photographers in Singapore
- The no-touch posing approach for portraits