Implied Nude Photographer in Singapore
Above: Implied nude lifestyle photoshoot using a book (prop) to hide her breasts.
Quick Navigation:
What is Implied Nude Photography?
An implied nude shoot gives the viewers the impression that the model is nude but none of the private parts (nipples and vagina) is being shown on the photograph.

The model can actually be partially or fully nude and the private parts can be hidden using hands, props, angles, furniture or walls. In some more provocative concepts, the private parts are covered by a third hand (someone else's).

An implied nude shoot is usually much more difficult to be done compared to a nude shoot because it's more challenging to make sure the private parts are being covered. Often, the "shield" has to be adjusted constantly throughout the shoot.

To many people, implied nude shoots are sexier than nude shoots because it draws the urge of the viewers to want to see more. Psychologically, people are more attracted to things that they can't get and in this case, they can't see the private parts although the models are showing a lot of skin. Giving a simple analogy, it's just like playboys who would do anything just to capture the hearts (and bodies) of girls, and after getting it, they lose the interest.

Implied nude photographs are usually more impactful than nude photographs. The way the private parts of the nude model are being covered can be so creative that it's mind-blowing. It can also be inspiring to artists.
Rates & Packages for Implied Photography
🌞 Standard
Up to 1 Hour: $250
Up to 2 Hours: $350 $450
Additional Hour: $150 /hr block
Deliveries
Basic Edit (exposure & colour correction)
Digital copies (high resolution JPG)
Up to 40 photos /hr
Photos selected by Photographer
Special Requests/ Add-Ons
Get back remaining good photos:
+$50 /hr booked (subject to availability)
Expedited photo edit (3 days after shoot):
+$50 /hr booked (subject to availability)
Privacy of photos: +$50 /hr booked
Advanced edit (skin retouching) for photos: $50 /photo
⚡ High-End
Up to 1 Hour: $550
Up to 2 Hours: $900
Additional Hour: $350 /hr block
Deliveries
Advanced Edit (skin retouching)
Digital copies (high resolution JPG)
5 photos /hr
Photos selection in low resolution JPG/ PDF
Special Requests/ Add-Ons
Additional photos: +$50 /photo
Revision of photo edit: +$15 /photo
Expedited photo edit (3 days after shoot):
+$35 /photo (subject to availability)
Privacy of photos: +$100 /hr booked
⚡ Studio Shoot
Please note that my home photography studio is not available until further notice.
1) My studio,
2) Your booked external studio, or
3) Makeshift studio @ your location
Details: Photo Studio
Hairstyling & Makeup
$180 /Female
$120 /Male
1x Hair & Makeup Artist (HMUA)
Up to 1 hour
1 Look (Hairstyling for a neat look & Makeup)



Add-Ons

Follow through the photoshoot: +$60 /hr
(subject to availability)
Details: Hair & Makeup Artist (HMUA)
NOTE
⏳

All booked duration

Includes changing and adjusting of equipment, wardrobe, makeup, hairstyle, and travelling (if applicable) during the photoshoot.
📰

Please read

(1) Checklist for hiring a photographer, (2) FAQ and (3) Service Agreement before making enquiries.
💡

Ideas and advice

Will only be given to serious clients after a booking fee is being placed.


✆ Contact me for customised package for your personal need.
Do Photographers Get to See "Free Shows" while Taking Implied Nude Portraits?
Above: Implied nude Yoga photoshoot using her hands and angle to hide her private parts.
Definitely yes.

In many cases, there will be wardrobe malfunction during the shoots. Even when doing a bikini photoshoot, wardrobe malfunction can happen. For example, there was once when the model tried very hard to pull the bikini strings tight in order to lift her boobs up to look bigger, somehow, one of the strings got detached. Both of us were awkward since I was quite new to photography at that point of time. The makeup artist told me I would eventually get very used to it. After pursuing the art for years, I understood what she meant.

Some more experienced and professional models do strip right in front of me since they know it's (trusting the photographer) necessary to create better art. They make things less awkward, unlike some inexperience models who overdo in trying to hide their body like as if all photographers are perverts.

In most cases, if the photographer is very passionate in creating great art work, his eyes and mind would be focusing on the settings of his equipment, the composition/framing of the model, the overall posture of the model and the expression of the model. Even if there's wardrobe malfunction, the photographer may not notice instantly. Anyone else involved in the photoshoot, such as the makeup artist, will be quicker in spotting the error. This is also one of the main reasons that I don't want a male to be involved in my shoots.

To conclude, a professional photographer won't even think about it (seeing private parts) as a bonus. However, there are also some "professional photographers" who would collaborate with girls for sexy shoots and not use the photographs for portfolio/marketing (they probably just enjoy the process of the shoot). Any girl who's interested in doing implied nude shoot should find out more about the photographer before even discussing with him to do a shoot together.
Nipple Tapes or None?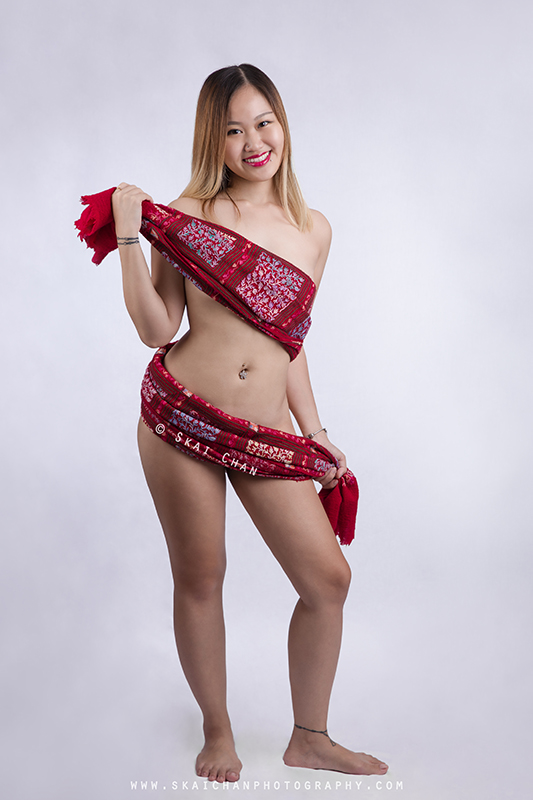 Above: Implied nude conceptual photoshoot using a scarf to hide her private parts.
Many non-models are curious if the models were totally naked or if they were wearing nipple tapes during the implied nude photoshoots. Both cases actually exist.

Non-professional models are usually shyer and thus they may insist in covering their nipples with tapes so that at any point of time, nobody can see her nipples.

Of course, if a model doesn't trust the photographer totally, she should use nipple tapes. However, from my experience, using of nipple tapes usually give problems.

For example, there was once the model was wearing nipple tapes. As she was too scared that the tapes would fall, she used extra normal tapes to tape over her nipple tapes. Therefore, a huge amount of her skin on her boobs was covered. Imagine you are wearing an undersized bra without the straps - it's still covering quite a fair bit of the boobs. Eventually, it was difficult to cover up the tapes (using hand or props... etc) during the photoshoot. We ended up spending more time on the shoot and the results could be much better.

In another case, the model's husband required her to use both nipple tapes and panty during the implied nude photoshoot that was meant to give an illusion that she's totally naked underneath. We spent most of the time to adjust the cloth on both her chest and hip area so that none of the tapes and panty would appear. However, everytime she corrected the top, the bottom would have wardrobe malfunction issue. We also had to take care of the overall posture and expression. Eventually, instead of doing multiple looks for the shoot, we did only one due to the exhaustion and lack of time.

All models should trust the photographer whom they are going to work with, to ensure a speedy photoshoot that also produces the best quality art work possible.
Is Implied Nude Photography Art or Porn?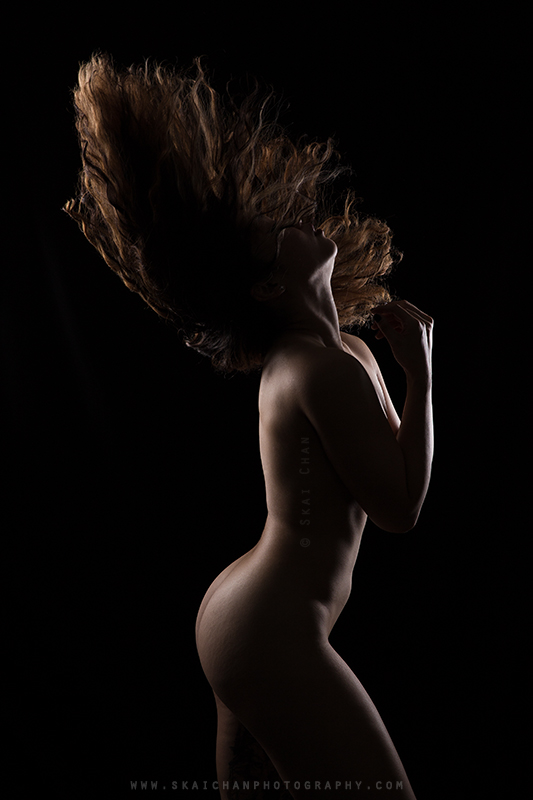 Above: Implied nude bodyscape photoshoot using angle and an arm to hide her private parts.
Art is subjective to individual's taste while there will always be a group of people who are extremely conservative and thus, they would jeer at your work even if it's of award-winning quality.

However, there are some photographs that many people would deem as art work, while there are some that are deem as porn even by most artists. I would advise people to work towards the kind of art that professional artists would admire.

On a side note, there are some people who genuinely treat porn as art, but probably, not a huge percentage.
Fashion or Implied Nude?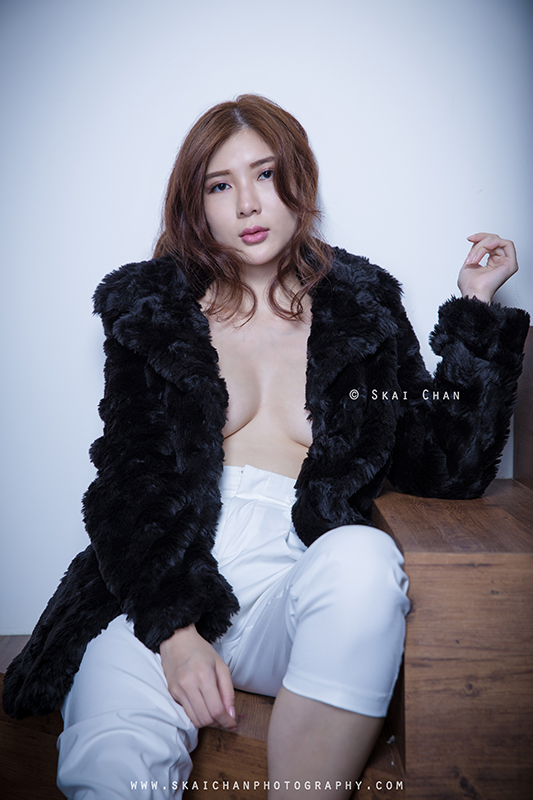 Above: Glamour shoot. The model isn't wearing a bra but she's not nude and thus this isn't an implied nude shoot.
A model was discussing about a sexy photoshoot with me and the concept would require her to not wear anything underneath her non-translucent top so that the shape of her breasts would be slightly visible but not the actual nipples. She called it an implied nude shoot and I disagreed - it's sexy though. From my experience of shooting with ballerinas, the leotards that the dancers wear do reveal the shapes and when they feel some chills, the shapes of the nipples can become very obvious.

Sexy fashion and glamour photoshoots are different genres from implied nude shoot, although in many cases, they do show quite an amount of skin.
Common Mistake on Implied Nude Photoshoot
Implied nude photoshoots, by nature, are sexy photoshoots. The purpose is to create an impression to viewers that the model is not wearing any undergarment. Therefore, certain part of the skin should be revealed. For example, if the concept is to imply that the model isn't wearing anything at the bottom, the side of her hip, should be revealed, at least by a little.

If the goal of the photoshoot is to create an implied nude picture, the model shouldn't be covered with excessive cloth.
Conclusion
To create a fantastic piece of implied nude art work, the model should very open-minded. If there's a lack of trust in the photographer, the result could never reach its full potential.

On the other hand, if the photographer doesn't have a solid photography portfolio, it's highly advisable not to work with him on such genre since it can be both time-wasting and dangerous for the model.

Art and porn are often being separated by a fine line. Always aim for tasteful art work for implied nude photoshoot, or otherwise, you might as well go into full nude.
You may like to read:
- How to avoid sexual temptation during a sensual photoshoot
- Experience of photoshooting with nude models
- Survey - questionnaires for nude models
- Boudoir photographer in Singapore
- Dangers of doing sexy photoshoot for female models
- Blacklisted photographers in Singapore