My Photography Journey
Every professional photographer begins as an amateur, so do I. I have not attended any photography course. I learn photography through trial and error without a professional photographer guiding me by my side. I do have to credit my achievement to some of my family members and friends though.

I have managed to catch up with good friends and met new good people through the photoshoots. However, there are many more hard truths in this trade.

Attitude over looks
When I started doing TFCD photoshoot, I was not looking at any particular look. What mattered most to me was the attitude of the model. Some shallow people thought only girls with "perfect" features could and should do portraiture photoshoot. However, most of the models I had initially worked with were girls-next-door who were not into modelling at all. Most of them did not even know how to do basic makeup and they also cared little about trimming of eyebrows. To me, girls who did not bother about impressing others in looks were likely to be more sincere and genuine. I personally did not dress to impress others and thus I felt connected with them.

Difficulties of new photographer
I did not have a smooth photography journey as I faced major problems along the way. The main issue boiled down to I was not working with professional models. Many non-professional models, including freelance "models", were usually not as enthusiastic as they sounded. Some of them had given me very bad timing where lighting was at its worst because they were very "busy". Slow replies and lateness were common. Another major and common problem was their personal grooming (hair and makeup), which resulted me in spending endless time on PhotoShop. I also got reprimanded by clear-minded good friends as they thought I should be collaborating with models who could really help me in my portfolio, and not just trying to please everyone who approached me.

Be selective
Reality told a different story from my fantasy of a beautiful world. As time went by, I accepted the difficulty of judging a person via online. People who approached me would always sound polite initially. After working with a girl who turned out to have very bad attitude, I came to sense that less-than-average-looking girls did not necessary come with good attitude. I began to harden my stand and be more selective of models I would work with for TFCD shoot. This would mean less retouching work in PhotoShop and more presentable photographs. I also tried to reduce the quantity of photographs to work on, which also helped me to spend more time on just a couple of good ones. Of course, not every model understood the logic of quality over quantity.

Timing matters
There was once after collaborating with a freelance model who gave me a bad timing for an outdoor shoot, she childishly and ungratefully commented in Facebook that the photographs looked bad. Apart from the harsh sun, her makeup and outfit were problematic. Her lateness and shortening of shooting duration stopped me from setting up my lighting gears as well. I began setting more ground rules that would help to create better photographs, which could have frightened off many spoilt or lazy "models". However, to mature or experienced models, the terms and conditions were simply common sense. Besides, I was learning with an ex-commercial makeup artist who enlightened me on the importance of proper planning, at least for the styling of the model.

Nonsense increases with popularity
When my portfolio was strong enough to captivate the interest of more model-wannabes. There were a few requests for TFCD shoot per month and sometimes per week. This created another big problem - having to spend more time to entertain and discuss about the shoots. Not all models knew how to judge photographs though and sometimes I did feel insulted. Many of those who had approached me were actually half-hearted. Even among girls who had been doing freelance modelling, there were many nasty ones who were already being spoilt badly by hobbyists or even commercial photographers. I had been trying to filter and work only with those girls who were really easygoing, showed great interest and in the same frequency as me. Occasionally, reality would remind me that no one was perfect as even kind girls could turn out to be insensible and over-demanding.

Down with marketing, especially Facebook
I realised I was struggling in Facebook marketing. As Facebook started reaching out for advertising fee, they had decided to show users only news/feeds that they thought were popular. Rumours stated that only 10-12% of the followers would get to see the new post, which seemed to be quite true. The importance of LIKE-ing and sharing of photographs and albums by fans and friends were so important that "less popular" photographs would be "buried" before others got to see my work. Reality had become so cruel that a well taken photo might not be shown to others in Facebook if most of the fans were trying to keep low profiles and not "LIKE-ing" and sharing it. I started my Facebook page way too late when Facebook marketing was already about paying the company money for promoting any page or photo. Most of my models did not help me with marketing. Some of their privacy level for their profiles were so high that even their friends could not see the photographs that they were tagged on.

Long term photography
By year 2014, I started getting worried about the life of my equipment that would eventually wear and tear. I also faced great limitation because I could not afford to purchase more essential equipment like lenses and light modifers to create different feels and lighting. Due to photography, I had not been spending time on my tuition agency and I was running it too honestly to make enough money to cover even my daily expenses in certain months. Therefore, I began taking up freelance jobs, which had ended up taking more of my time. I also tried very hard to add and improve contents on this website. I was badly stretched and had to limit the number of TFCD shoot to models who could really benefit me. The only logic that had not changed since the beginning of my journey was that I had to have fun during the shoot while meeting good people.

Types of work
My initial portfolio was filled mostly with fashion, lifestyle and conceptual shoots that were too conservative to attract attention; moreover, it drew only admiration from models who only wanted to do the same genre and most of this type of model were not model-material. The models who had worked with me knew I was too obsessed with producing good photographs to take advantage of them. Some of them sang compliments of me, like as if I was the only photographer they would trust. Slowly, they stunned me with their new photographs taken by random photographers in their new wardrobe, picturing that they were too broke to buy clothes with more cloth, and somehow the "budget" clothes would drop during the shoot. I was not sure if I should feel sad for them or myself, or both. Eventually, I felt hurtful when I knew my models had done the type of shoot with other photographers that they had refused to work with me simply because I was not very insistent and I would not sweet-talk them.

Tasteful art
In year 2015, after doing a boudoir shoot with a client, I realised I was still very shy and thus could not produce work to my best ability. Later on, another potential client approached me and after we chatted happily over the phone for an hour, she told me she would consider because I did not have many boudoir albums in my portfolio. Thereafter, I tried doing more sexy shoots and always kept them tasteful. However, I could not find very suitable models who could really help me to shine.

Work and friendship
I got to experience the reality that "models would come and go" no matter how hard I tried to create decent images for them. Most of them would not bother about friendship but getting decent quality portfolio from me while not losing their modesty and integrity. I started to admit that I was far too soft to get things done.

Instagram in year 2016
Another big regret was to begin my photography Instagram account late - in early 2016 - only after Instagram released the feature of multiple accounts on a single phone. By then, many people, especially potential models, had earned a large number of followers. It was very difficult to get users with large number of followers to follow my account back because they were likely being spammed with excess notifications to even know my existence; even if they happened to see my account, they would not bother about me - big accounts usually would not follow smaller accounts. Even though I was quite good with online marketing, I was still struggling hard and could not win the older accounts.
Eventually, I realise I should focus on getting what I want (type of shoot) instead of what the models want. I should not have cared too much about how far the model would need to travel because some of them would turn suspicious when I prompt more about the location of their home. I'm also trying hard not to be too over-protective to models, which will limit the potential of my work. Of course, I'm still learning and continuing to make the same mistake because it is my character.
My Weaknesses
Not a commanding person
I don't like to command people and thus is not able to handle large group shoot if the subjects are not cooperative, especially when I have to adjust the lighting at the same time.
Lack of height
I'm short for a guy, which may restrict my angle of shooting, especially when the subject is tall.
Perfectionist
I'm a perfectionist who overspend my time on planning and post-production work, and have too high expectation of my work. Try asking yourself how many clients have the proper budget to pay for the amount of effort and time to produce good work, especially when many photographers are undercutting the market at the expense of quality of work. Unfortunately, most clients are not artists and do not have the eyes of artists.
Injuries
My passion and determination often overexert and sometimes injure my body. For instance, there was an uncommon event that required me to snap continuously for around 45 minutes during one of the sessions. I held my nearly-2kg-camera on a single hand while using the other hand to rotate the speedlite in order to produce the most flattering light for every snap. Eventually, I injured my right wrist.
Write-up for every album
In order to educate people about photography and to minimize the damage of my bad memory, I insist in doing a write-up for every shoot I've done. It requires huge amount of time. Over time when I get more projects, I've to focus on my portrait shoot albums, having to leave out my event and interior work, because I can never afford the time.

I have written a write-up for almost every of my portrait album, which have also focused on the beauty and positive values of the models. Although many models do make mistakes that have reduced the quality of my work or even insulted me indirectly, almost all of them are nice people who don't intentionally want to hurt me. It is mostly due to their lack of knowledge in photography that they tend to undermine the process and rules.
Addiction in beautifying people
Often, when I meet a new person online, whether is a client or friend, I cannot control my mind but to think of how to style the person for a portrait. This insanity inflates when the person demonstrates lack of confidence in her looks, as I would want to help the person to regain confidence, whether she's interested or not. As planning for a shoot requires lots of time and effort, it's a great burden to me.
Man of principle
There are problems that can be triggered by this "inflexibility". For example, I practise first come first serve basis on working on my projects for post-production. There was once when a model tried to coax me into working on her album first, my rejection offended her. While many "photographers" are busy apple polishing hot models, I seem to have done the opposite in some cases, especially when people try to take things for granted or unintentionally insult professional photographers.
Lack of multi-tasking skill
Whenever I've a project on hand, I want to focus solely on it in order to give my client the best possible. At the same time, if there are new enquiries, I may be stressed and choose to delicate my time and energy on the existing project(s) first. This means that I may have losing new opportunities.
My Portrait Journey
I learn through mistakes.

For sharing purpose, in order to help everyone to avoid making the same mistakes, I have listed all the problems, including my mistakes, here without naming anyone. Eventually, I hope people who are going to work with me in future will avoid repeating the problems.

It's a test of my memory to recall about the projects that were done many years back. Therefore, I have definitely left out some details.
Year 2012
I began doing portrait shoot with my first "better quality" camera (1.5x cropped factor sensor) in year 2012. I knew nothing about Aperture, Shutter Speed and ISO. I had absolutely no knowledge on how to look at light. Choosing of clothes was the only part of styling I could oversee.
First official portrait
My model just knocked off from work and even with her simple makeup, she looked pale and tired. The only thing I planned was the outfit and location. Both of us were new to portrait photography. There were a couple of photographs that were quite well taken because of her sudden hyperactiveness and that quirky feel was great but she was not confident.
She's the boss
It was another agreed test shoot that none of us expected any good result. The model was a little over-confident and she insisted wearing her plain clothes that I did not get to choose. She did not like and thus did not put on any makeup although she had many freckles. Throughout the shoot, I tried manual focusing without realising the camera was not designed for this purpose and thus I was really slow at snapping each shot.
My cute but weird trainer
The model was another kind girl who was new to modelling but was trying hard to help me. At the agreed time to meet up, she was uncontactable. I waited for probably an hour before we had lunch together. She had actually forgotten to bring her phone out and returned home to get it. I did not get to pick the outfit and she did her simple makeup. By the time we reached the location, we lost a big quantity of ambient light. It was the last time I tried manual focusing as the model honestly told me I was too slow as she tried posing.
A total new friend
The model did her own simple makeup. We spent quite some time at the corridor of a building. It was the first time I experienced shooting with strong sunlight. I was probably still using auto mode. I still did not know about the features of the camera and lenses. Since I had studied that prime lenses were usually sharper, I used the 16mm F2.8 lens on the cropped body camera and the model's face and body got a little distorted. The photograph I liked most was actually badly underexposed since the body was at the edge of the corridor area. My taste for photograph was so bad that I thought it was a master piece. The model loved the set of photographs for years although she already had better photographs. I tried too hard to give her too many photographs, which took up a lot of time.
Rained but still good
The model picked her own outfit and I was kind of regretting that I did not get her to snap a photograph of it before the shoot. Basic makeup was done by herself. I did not check the weather forecast but luckily, the rain stopped after some time. There were some focus hunting but I did not know it was probably due to the sun.
Bad unintended shadows
The model did her own simple makeup. I still did not know much about lighting and shadow. Some photographs had bad shadows casted on her face. Towards the end of the shoot, the wind messed up her face using her hair.
Overexposed lighting
Model did her own simple makeup. She was late and the sun came out angrily. I was too excited and engrossed in my new F1.8 lens that I overexposed many photographs because even with the fastest shutter speed and lowest ISO, the sun was too bright for the Aperture F1.8 in the open area. The outfit for the second set was not very ideal but she had quite limited good clothes to choose from. The sun was harsh and thus light quality was bad.
Lack of styling
The model knew nothing about makeup even though she did not have good complexion and her hairstyle did not help to shape her face that was quite needed. My taste for photographs was still quite bad, which explained the colour tone I added in Photoshop.
Model from Hell 1: Model overpowers
The model was over-confident to decide on a super early timing with me and at the meeting time, she was still asleep. I waited for over an hour for her even though the meeting place was near her location and quite far from my house. She was over-confident of her own makeup skill too but did not even bring a mirror along. During the shoot, she tried to guide me to take from the angles she wanted like as if she was the photographer. We got lucky with the involvement of an experienced makeup artist and she was tamed by the professional after trying to challenge the latter on makeup knowledge. She was super open-minded (a big contrast to my shyness) and confident during the shoot but after the shoot was a total different story - she became very self conscious. She made me go down to the makeup artist's house to pick the photographs on another day and rushed me for the photographs. Even though all the photographs were picked and guided by the makeup artist throughout the entire post-production, she rejected a few photographs for the rest she was not confident of her thighs. She badmouthed me to our mutual friend but approached me a few times for shoot.
Wrong outfit
The model did her own basic makeup. I had a shock for we had a big miscommunication regarding the outfit that I did not insist her to snap a photograph for me since we had worked together before and I did not want her to feel being doubted. Luckily, she had brought an extra outfit. It was the first time I tried shooting at night and faced limitation without external flash.
Awkwardness with her boyfriend
The model had very limited clothes. She was young and her boyfriend insisted in tagging along. The agreement was that her boyfriend would be "hiding" around so that we would not be able to see him to feel the awkwardness. As her boyfriend stayed at the shooting location, I did not expect him to meet both of us up at the MRT station. It was the first time I did not get to talk face to face to my model before the shoot as we were sitting a few seats away in the bus. Instead of going away, her boyfriend was camping super near us and eventually joined us. The model was super awkward just like me.
Year 2013
There were still numerous repeated mistakes made, mostly to accommodate the amateur models I was working with. The transition of using a what-you-see-is-what-you-get (WYSIWYG) electronic view finder (EVF) mirrorless camera to an entry level DSLR gave me problems. However, being able to play with speedlite helped me to understand more about lighting.
First professional shoot
With the help of a very experienced makeup artist who selected two of the three outfits and styled the model for the themes, it was another masterpiece work done at the right timing. It was a pity that I was not confident enough to change the location for the last set. For some good photographs while the model was doing splitting, a tiny bit of her panties was shown and thus could not be used.
Bad eyebrows
The model knew nothing about makeup while her eyebrows were terrible. She felt awkward in front of the camera even though she had a couple of experience with other amateur photographers. My limited skill was almost defeated by the strong sunlight.
Photoshop queen
The model did her own simple makeup - she could have done without any makeup for her pretty face, except that she had bad eye bags. I focused too much on the F1.8 bokeh effect even though we had props and should play around with larger depth of field. The model rejected some of the photographs chosen by my makeup artist friend. She also indirectly insulted me by asking me to let her edit the photographs since she knew a bit of photoshop.
Dropped
A mutual friend helped the model to do simple makeup. The model's accessory dropped in between two pranks of wood and we wasted quite some time trying to dig it up. I made some mistakes on the composition and was taught by my makeup artist friend to crop some of the photographs.
No makeup
The model had a last minute overnight mahjong game even though we arranged to shoot in the early morning. She postponed the shoot to the afternoon and I woke up early for nothing. She had quite bad complexion and had extra meat, although she did not know how to do makeup. The location had more photobomb in the afternoon.
Pimple outbreak
The model had a pimple outbreak on her forehead. She knew nothing about makeup. Her only available timeslot was in the very late morning. Even though she was at her friend's house that was near the meeting location, she replied me some time after the arranged time. It was not long before she needed to leave.
Inaccessible
The model did her simple makeup and hairstyling. We were supposed to shoot at a railway bridge but only realised it was inaccessible upon reaching. The best photograph was taken with backlighting and the light flare was quite bad. With a bit of photoshop to bring down the highlight made the photograph good but rather flat lighting on her face. The model led the way to the second location and we missed the bus-stop and the next one was far. The tower that she wanted to bring me to was under servicing. I made some mistakes by neglecting some minor part of an impromptu prop. Insisting to use the 50mm lens on the cropped body camera, I lost chances to take more creative shots. We were at the mercy of the sun and cloud.
Makeup overdone
The model was more towards the "ah lian" type. She overslept and took a long time to get prepared and thus we lost a big quantity of light. I experienced quite a number of focus hunts throughout the shoot in the lack of light, especially when I was trying the on-camera flash. She did her own makeup and in the mid of the shoot, she went to touch up her face and overdo her makeup, which I only knew after my makeup artist friend went through the photographs.
Test shoot for new equipment
It was a test shoot for my first DSLR with external speedlite. Although the brightness looked okay at the back of the LCD screen, the photographs were underexposed. The new 50mm F1.8 lens gave very soft effect. The model did not put on makeup and she also had problem with her lips area that I had failed to notice until I looked at the photographs on my computer.
Model from Hell 2: The drunkard
The model went drinking hours before the early morning shoot. Although she was already late, she decided to change the shoot to a beach shoot. I ended up waiting two hours in total for her, having to walk over to her place. She had quite bad complexion and yet did not put on any makeup. She smelt of alcohol. As she was a little big in mass, I had problems posing her in her swimwear. As it was a busy period, my makeup artist friend was unable to go through the photographs with me and thus the post-processing was badly delayed. The model turned into a devil.
50mm F1.8 overdosed
The model did her own makeup and hair. I continued to use the new 50mm F1.8, which was less sharp than the previous one. The full body photographs were too far too soft and required extra photoshop work.
Makeup - too creative
The model got the meeting point wrongly and I had to travel very far to get to meet her. Her classmate's family was in the makeup trade and thus was able to help her with her makeup. The young makeup artist was nice enough to take initiative to draw a flower at one side of the model's face. After my makeup artist went through the photographs, all of them were rejected due to the flower as it was not connected to any other small drawing and thus looked like something popped out from the face. Besides, the model was rather cranky during the shoot since she was fasting and had to leave earlier because she was not feeling very well.
Entertain the kids
The model was good in doing her own makeup. The shoot was at her house and her two children kept me occupied most of the time. Her husband was a heavy smoker whose smoke slipped into the room from another room. We got a nice shot but she was in her shabby top.
Effort but uncreative
The model did her own makeup. She was nice to work on my concept but I could see that she actual felt weird and did not believe in it. With the extra time left, we did some normal fashion shoot while waiting for the sunset, which never happened for we were not at the correct location.
Be bolder
The model did her basic makeup and her friend helped her with her hair. I was still too timid and she advised me I should be discussing about the underwear with models if it would affect the looks on the outfit. Unfortunately, after the shoot, she tried to make me work on her album first and my principle refused.
A few blur photos
The model did her own basic makeup. Since we had shot before when I was new, I wanted to do something better with my knowledge gained and thus I used my older camera system, which I was more confident with. Moreover, we did not know the exact spot to shoot at. I made some mistakes of capturing blur photos because (1) the auto focus system was slow and was affected by the sunrays and (2) the shutter speed may not be fast enough for moving subject.
Old vs New system
The model did not put on any makeup because she did not like to. There were strong wind occasionally. I was still inexperienced and uncomfortable in controlling the speedlite during daytime and eventually gave up. There were still some composition flaws to be improved on.
Model from Hell 3: Professional - Not
The model was more towards the ah lian style. She had experienced of being paid by rich photographers for very sexy shoots and I was not very confident in handling her. She postponed the shoot twice. She did her makeup. She chose quite a bad timing for the shoot and the weather was not on my side. It rained. She was late for about half an hour and wanted to change the venue to somewhere nearby. She forgot to bring water along and she was thirsty before we began the shoot. She also informed me that she had to leave quite soon to meet her new date. I did not get to see the two outfits she brought until the shoot and both were very lousy - the one I had to pick actually made her body straight like a pole due to the material and cutting. While it was a raining day with dark clouds, I was so unlucky that the sun was not blocked at all. Since she had to rush off soon and that she was dying of thirst and yet could not drink from the water cooler/dispenser nearby due to hygiene issue, I could not set up my speedlite and umbrella. Furthermore, it could rain anytime soon. When I tried to shoot her at certain spots, she refused to because she had done shoot there before. I had to challenge myself with backlighting under the very bright sun. After going through the photographs with my makeup artist friend, she tried to help me by selecting the best among them and made me do photoshop work on the model's makeup. I sent my friend numerous times to feedback after the photoshop work. The model got me to send her a copy of an original photograph, applied blur effect to her entire face (of course, without correcting her makeup) using a phone's app and told me her editing was better. She also commented on the copy that I uploaded on Facebook that it was ugly. A couple of years later, she approached me to remove them from my website. Given that most of the things had gone wrong during the shoot, the entire album was of less satisfying standard than the rest and that I did not want anyone to mistake the model as an angel from my write-up (I wrote only about her merits, including her chatty character), I gladly removed it.
Heaviest
The model did her own basic makeup. She was at the heaviest time of her life.
Oversized bra
The model postponed the shoot once. She did her own simple makeup and later claimed that she did not trust other HMUA. She brought along a friend, most likely to be her escort who was walking around the place for the first set. For the first outfit, I noticed something was wrong but could not figure out until my HMUA saw the photographs and told me the model was wearing an oversized bra and the top part was popping out. I did not really dare to look at her chest to observe the wardrobe malfunction though. The sun was very harsh and I was still not good in controlling my light to match the very bright background. For the second set, the ambient light was good but I was still toying around with both of my cameras to see the difference. The model could not give good expression even though her friend was giving her advice.
50mm F1.4
The model did her own simple makeup. It was my first time trying out the 50mm F1.4 lens and it was really way too soft. As my camera body had very limited auto focus points, it was difficult to use the small depth of field to focus on the model. Since we were exploring the location, I did not set up my lighting. For the second set, we were aiming for sunset but we were not lucky. The model was too used to standard super model posing style and thus she was unable to follow my lifestyle shoot that required some imagination. The location was far too plain.
Model from Hell 4: Bad start, terrible end
The model was supposed to get the suitable outfit. She dragged until the night before the shoot and went to shop for it. She texted the HMUA and I in our WhatsApp group chat and sent a photograph of a nice dress that fitted the theme very well. After we told her it was good and advised her to get it, she went MIA. By the time she replied us when she was home, she had bought another piece that was less suitable and not as pleasant looking. On the actual shooting day, with all the equipment, props and laptop, I was very weary by the time I reached the location. Although the model was staying nearer than me, she was late for more than an hour. She did not have to do any makeup and she also took a cab over. I was stunned because the model looked quite bad without makeup. The HMUA took longer time than planned to style the model and she had to rush off. I was caught by surprise when I saw that the model had very ugly feet for the barefooted shoot. A few years later, she became extremely religious and tried to demand the photos to be removed.
Lack of communication
The models had simple makeup on. The wall that we were supposed to use was quite dirty. I over pushed the limit of my speedlite and although the photographs look okay on the small LCD screen of the camera, most of the photographs were actually underexposed. The long hour of intensive shoot wore me out. I did not communicate well with the coordinator regarding their over expectation of my commitment and thus things did not go very smooth eventually.
Year 2014
Near the second quarter of the year, I upgraded to my first full frame camera and began the journey of a freelance photographer because I knew I needed fund badly to upgrade my equipment in order to do more kinds of shoot.
Check back again for more updates!
Year 2015
Check back again for more updates also!
Year 2016
Check back again for more updatesssssssssssss!
Year 2017
Need a lot of time to recall and type!
Year 2018
Need a lot of time to recall and type!
Year 2019
These are 10 of my favourite and unique work in year 2019.

There are also many other nice albums for year 2019, which I cherish a lot and are more than deserving to be placed in the photo collage.

Credits go to all these people who appreciate my work and trust me, and also willing to spend time to do discussion, wake up before sunrise, and wait for me to set up my lighting. These enable me to create work that are unique from others'. The appreciation makes my effort of dragging/carrying 10 over kg of equipment along for the shoot and spending a couple of hours, on average, to retouch each of the photos worth it. I even injured my shoulder and wrist sometimes.
Year 2020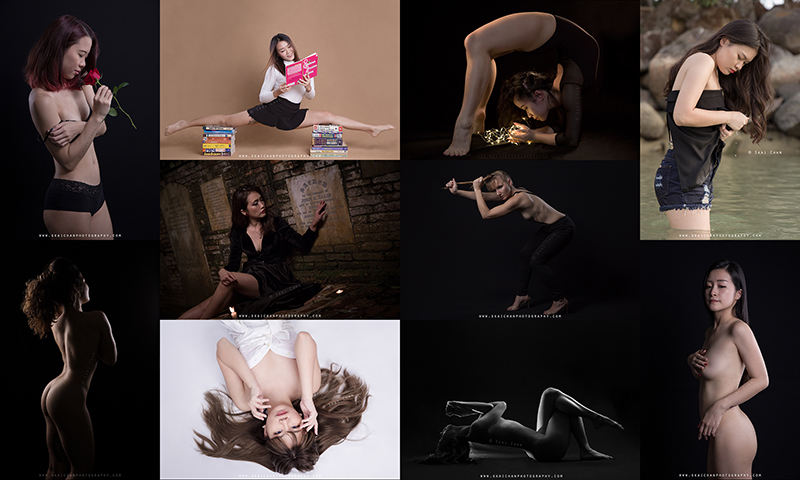 The year 2020 involved lots of changes and restrictions. For a few months, doing portraiture photoshoot was almost impossible since social meetup was forbidden.

My forte is on outdoor photoshoots. I always bring professional lighting equipment with me to create impactful lighting on my subjects, which differs me from the majority of the photographers.

However, I started working mainly on studio photoshoot even after outdoor photoshoot was permitted. I worked in my tiny home studio due to the fear of setting up a permanent studio - rental cost.

The main reason why I couldn't really do outdoor photoshoots was the requirement to wear a mask. The exertion caused fogging on my spectacle and the extra strength to breathe exhausted me more. While my proficiency in communicating and making the models feel at eased required displaying my (sometimes funny) facial expression, usually tapping on with my jokes, the mask stopped me.

Setting up my home studio took around a couple of hours and keeping everything required slightly lesser time, and thus every photoshoot robbed me of excessive time and energy. It wasn't easy. However, I felt great for I was able to create professional work out of a small space that nobody would realise that it was really small.

I created an insane amount of work, mostly in my home studio, that I overloaded myself; it was so bad that I didn't even have the time to push a couple of finished albums onto my website on the last day of the year.

I ended the last month of the year with a long break, spending most of my time with my love. It was good healing.

I took pains to select the top 10 photos that I liked the most.

Thanks to everyone who has trusted me to create great art work together.
You may be interested in:
- Casual portrait photoshoot photographer in Singapore
- Crazy things that professional portrait photographers do
- Interesting facts about being a photographer
- Misconceptions and myths in professional photography
- How to judge a photographer

Page last modified on Wed, 19 May 2021