Hair & Makeup Artist (HMUA) in Singapore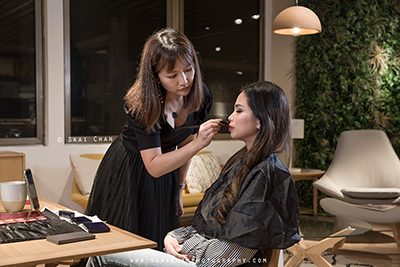 "Makeup is not only about hiding the flaws but also highlighting the features; styling is not only about making you look prettier but also transforming you into the look that the theme requires."
When you organise an event or portrait shoot that you have spent lots of time and money on, you probably want to get a good photographer to capture the moments. Similarly, you should be thinking how to look in your best during the probably once-in-a-lifetime event. This is the reason you need a good hair and makeup artist.
The Importance of Good Makeup and Hairstyling
A good makeup does not only hide your flaws like acnes and scars, it also shapens your features and bring life to your face, and at the same time, make your face look natural. A good makeup artist can make your face look slimmer and eyes look bigger. Good makeup artists can use colours to change mood and hide your puffy eyes.

Hairstyling makes a big difference not only to present the feel that you want to display, it also helps to shape your face. For example, if you have a high forehead, the hairstylist can try to make it less obvious.
Bad Makeup
More does not necessary mean good. Covering face with thick layer of foundation is likely going to make the person look fake. It may also make the face "crack" faster. While some girls know how to do very basic makeup, many do not care about their eyebrows. Eventually, the makeup will make the unattended eyebrows look very obvious. Wrong use of colour tones can make puffy eyes look worse. While differences in colour of face and neck make the model look bad too.

I'm not a makeup artist nor a girl but I will never underestimate the power of makeup.
Appreciating the Art
Eventually, it all boils down to money. No matter how rich a person is, there is a high tendancy that she wants to cut cost. The situation is similar to engaging a photographer.

The biggest problem is not everyone knows how to appreciate good work. If you are given a single photograph, you probably will not realise it can be done much better. If you put two photographs taken by different photographers together, you can roughly tell which is a better photograph even though you may not be able to point out the differences. It takes me quite some time to improve my judgement too, even though I'm being guided.

Back to doing makeup and hairstyling, the same problem of lack of appreciation of the art is giving the good HMUAs a hard time. Even for a photographer like me, despite I can judge bad makeup, I'm still having problems differentiating good and excellent jobs. When a person does not see the value of good hair and makeup, the professional has no extra value. However, someone else attending the party or looking at the photos will definitely be able to see and judge.
Undermining Makeup and Hairstyling
Similar to photography, not everyone knows how to tell the quality of the work. Of course, there is no definite answer, as it is up to individual's preference. I'm not an expert even after doing portrait shoot for years even though I'm definitely more skilful than most people by now. Eventually, the problem is if you do not appreciate the work, you will not be willing to pay for it.

I get to work with freelance models often and some of them do not even know the importance of having good makeup. A couple of them have told me that they prefer doing makeup by themselves as they think they know their faces better. Eventually most young models only know how to put layers and layers of foundation over their faces to cover acnes and pimple scars.

I also have clients who insist that makeup artists do not make much differences. One client has told me that she can get free makeup done at cosmetic stores while the result is similar to her previously engaged makeup artist's work.

No hair and makeup artist can produce good work simply by signing up to a makeup course. Everyone makes mistakes and faces new challenges, and it takes lots of practices and real-life experiences to learn. No client has the exact same face and skin colour, and that is why every assignment is different.

It is very insulting to professional hair and makeup artists by saying their quality of work for the couple of hours is nothing impressive.
The Cost behind the Makeup Job
The basic tools of HMUAs do not cost as much as photography equipment but the bits and pieces of small items will cost a bomb altogether. For examples, items such as lipsticks and eyeshadow have various colours. There are also different types of false eyelashes and even wigs. Many tools do wear and tear too.

Cheaper products can produce far less pleasing results - for examples, they cannot be blended well onto your skin or they fade off fast. Thus, most professional HMUAs insist in using quality ones that will require higher cost. If you happen to get a cheap grab, the HMUA may be using less expensive (quality) products on your face.

Travelling takes into account too. The tools of HMUAs are heavy and bulky and they require to take cab. This is why some HMUAs will charge extra for transportation if it is an early morning shoot that cab fare is usually higher. This is also the reason why some HMUAs will charge a lower cost if you are willing to travel over to their houses.

Therefore, when you are engaging a HMUA, you are paying for not just her creativeness, skill and time, but also all the expenses of the tools and transportation.
My Choice of Hair and Makeup Artists
I enjoy meeting and working with new people but I prefer sticking to just a few HMUAs. The reasons are obvious that (1) I have already built up a rapport with them, (2) they have a certain standard of skill, (3) they have good working attitude and (4) they enjoy working with me. Eventually, having good communication between the entire team would help to produce better work, especially for portrait shoots.

Apart from getting good hair and makeup done, a major benefit of working with my hair and makeup artist friends is that some of them are willing to lower down their rates just to work with me. Therefore, it's something good for my clients.

My top priority in choosing the HMUAs I'm going to work with is their attitude. They must be passionate about the art, easygoing and flexible in the location. I do outdoor portrait shoot most of the time and the location for doing hair and makeup can be quite bad.

Below are the HMUAs together with the portrait project(s) they have done together with me, in order of the date of first project we have worked on:
You may like to read:
- Freelance Models in Singapore
- Freelance Photographer in Singapore