Note: I'm currently doing a giveaway portrait shoot in Facebook. Do view the post on my Facebook page to take part.
Do help me to LIKE and share the post even if you're not going to take part!
Art, Glamour and Boudoir Photographer in Singapore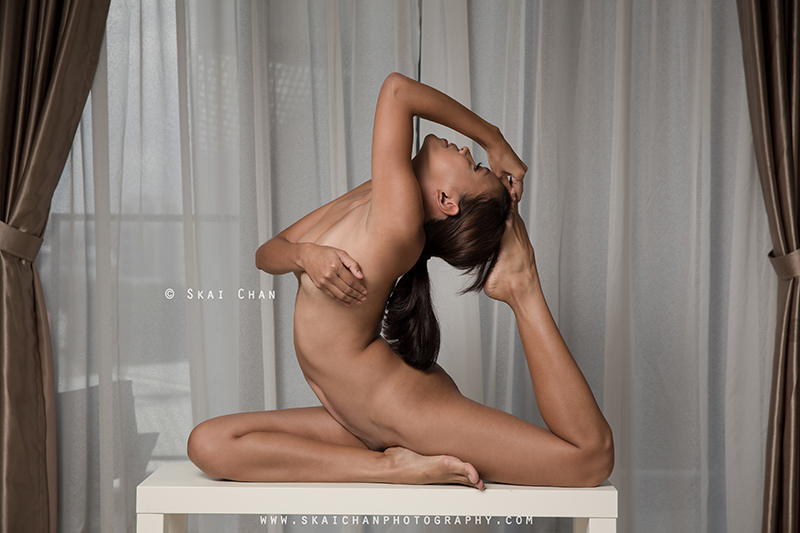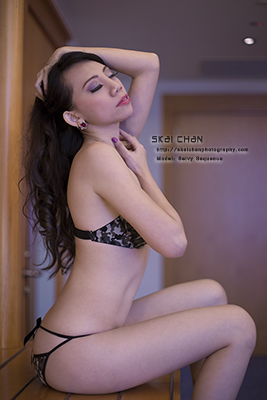 While you are still young
Time waits for no one and everyone should take more photos while they are still young. Let the photos help you to bring back your gorgeous moments years later when you are no longer able to attract "bees".

Art vs Porn
There is nothing wrong with doing sexy photoshoot for the sake of own self-keeping, purely for the sake of art or to surprise your boyfriend or husband. There is, however, a distinct difference between tasteful and distasteful photos, which can be classified under art and pornography respectively. Unfortunately, not everyone can tell the difference as long as their photos can garther many LIKEs in Facebook.

The difficulties
Sexy portrait shoot is a great challenge to me because communication is very important. I'm a careful photographer who tries too hard to not let anyone get the wrong idea during the shoot. It is difficult to guide a model without any body contact. If the model is not comfortable with me, it may forbid me to suggest ideas or give instructions. However, with the correct model who is open-minded and trusts me completely, I will be able to produce good results as seen in my portrait portfolio.

Beyond photographer
Everyone can appear sexy in photos. Nevertheless, some girls will definitely need the help of hair and makeup artists to style and create the good impression. As for a photographer like me, I can help by posing and lighting you in a glamourous way. Props can help as well.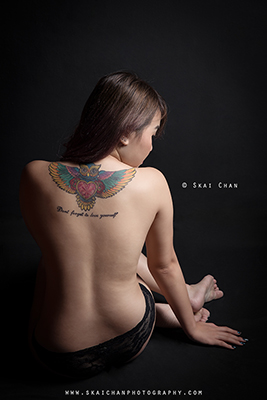 Dangers
There are definitely dangers in doing sexy photoshoot, especially nude shoot. This is why I always advise people to take only photos that they do not mind others will somehow get to see in future. Girls should also be mindful of their boyfriends or husbands, or probably future ones.

Advantages
The advantages of working with me to create art work are that you will be safe and I only go for tasteful art. You will be safe to work with me because I do not touch my models, not even to pose them.

Working with freelance models
Apart from the reasons above, freelance models have been approaching me because they need good portfolios to showcase to their potential clients. They do get photos from their existing clients, usually hobbyists, after their shoots but the quality of photos may not be able to help them to build a good portfolio. Having distasteful photos inside their portfolios will only give everyone the wrong impression and they will likely attract more of the wrong crowd and clients.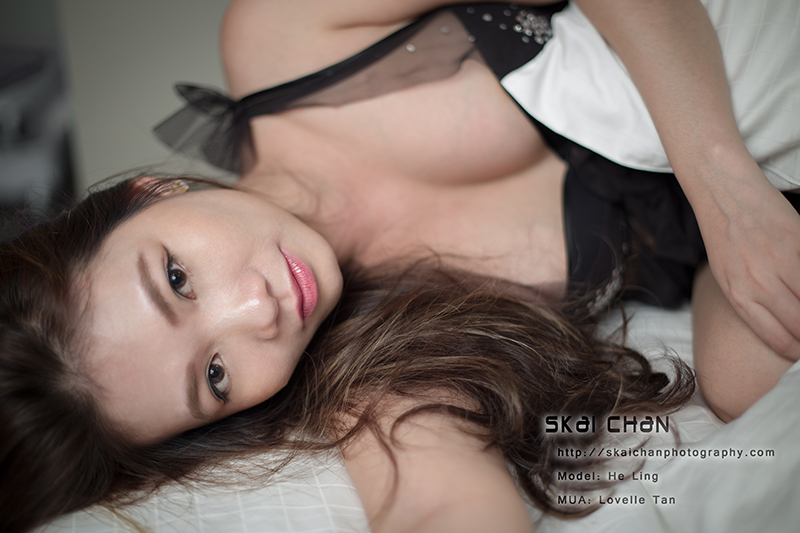 Reasons why I love the art
The feeling of being trusted
The effort - I have been devoting a large portion of my time working on photography, including this website with the forever inceasing amount of huge contents. I'm a man of principle and I do not take advantage of people. I'm also an open-book. As honest as I am, I also hope for reciprocation, in term of trust. I'm easy to be pleased and the full trust the models give to me during the shoots make me feel great, appreciated and satisfied.
Proving that decent photographer exists
Many photographers who do sexy shoots have their secret agendas and obviously they wish to bed the models. Some of them are already being "blacklisted" but I'm sure many victims just want to keep their stories to themselves and thus many black sheep are not being exposed. Through my interactions with freelance models, I have also heard of black sheep who take advantage of models because of their (the photographers') popularities. It is my wish to prove to the world that photographers who do sexy shoots can also treat their models with respect - at least, some of these photographers are decent enough.
Helping people build confidence
Helping people to look good will also build up their confidence. The world will become so much more beautiful if all the people with low self esteem can get onto their feet and live happier.
Sense of achievement
The love for art and my inner competitive mind also tries to push my limit, especially after I see many distasteful sexy photos appearing on Facebook. Sexy shoots are much more difficult to work on because there is only a narrow line between art and porn. It is a big challenge to get it done well.
Competitive mind
As I have many freelance model friends in social media, especially Facebook and Instagram, I have been seeing sexy photographs being posted almost daily. I frown at most of them since they are usually badly done although there are also some good works. I'm an easygoing person but I actually have a competitive inner soul that wants to do better than others.
Uniqueness
I do not like things that are too mainstream, which anyone (photographer) can do. Given that there are fewer chances to do art shoot since most people are looking for only casual fashion shoot, it is very attractive to me.
The demand from clients
The most essential task for me to continue and improve on my photography is to attract more clients. I need them to pay me so that I can upgrade and replace my damaged equipment, and also to make ends meet. The clients with higher budgets to engage photographers for private shoots are ladies who have quite stable income. Most of these ladies are of a certain age and they want to keep memories of their bodies before they grow more wrinkles.

Long ago when my portfolio was limited to normal fashion shoots, a client approached me for boudoir shoot and we chatted over the phone for an hour. She had no issue with any amount of money and was pleased with my honesty. However, she pointed out that I had too few sexy shoot albums to showcase in my portfolio and thus she had to decide again. She did not get back to me.
Marketing value
Art shoots are usually sexy and can generate more reactions in social media. I need to draw attention from people to look through my entire portfolio to understand me and my talent. From my years of experience, photographs that are leaning towards glamour and sensual do attract more reactions and thus serve the purpose best. Of course, other types of shoots such as conceptual shoots may also create quite good results if they are nicely done - I don't rule them out and, in fact, I do work on them whenever I have suitable models.

One obvious fact is when my friends of both genders chat with me, they would always mention about the sexier albums. They tend to overlook the other albums even though the sexier ones are just a small portion of my portfolio - this is how strong the impact is. Another fact is that whenever a hot girl posts any sexy photograph (not taken by me), no matter how distasteful or poor quality it is, it can easily receive many times more reactions (LIKEs/comments) than the professional work I post.
Attracting better quality models
At the start of my portrait photography journey, I was stuck in a vicious cycle for many years because I had done too many Garden Shoots with friends. I was warned by a few good friends who were in or related in the trade but I was helpless when I did not have a strong portfolio. The fact is if a photographer has done mainly fashion shoots with models who are always smiling at the camera, most of the people who will approach him for shoot, whether is a friend or stranger, are people who are eyeing only at similar fashion shoot. Then, more similar type of people will continue to approach him.

The worst thing is not just about the boring type of shoot but the quality of people/models. The model-wannabes who want to do Garden Shoots are generally not of the model quality in terms of looks, (interesting) personality, maturity and confidence. Most of them underestimate the effort of every photoshoot. There are, of course, some models with better standards who have approached me every now and then, and thus I'm able to improve my portfolio with more interesting albums slowly.
Love for art
I'm taught to be an artsy person since young due to influences by teachers and my elder brother. However, reality is always cruel. Born in a less well-to-do family, there are many things I cannot do. I used to admire pianoists but my family was too poor and thus I did not even mention about buying a piano or taking up piano lessons. I had interest in drawing and handicraft work but the stationary was not something my family could easily afford. I did take up calligraphy during primary school but the cost of the brushes, ink and papers made me give up soon, partly due to my schedule. Martial art was a dream but the school fee would be a huge damage (to my parents' pockets). Since young, I had to restrict myself for the love of art of all kinds. Even for photography, as films and developments were too pricey for my family when I was young, I started professional photography only after I started working and being encouraged by my good friends.

Throughout my life, even with the deep passion for photography, I have never dreamed or thought of doing any sexy/artsy kind of portrait photography, until after interacting with more models and the exposure to more art work. I'm a shy guy by nature but art is a way of life.
Contact me
If you are an easygoing person who has the same mindset as me, do contact me for a heart to heart discussion to see how can I help you. I'm looking forward to create more artistic and mind-blowing work that can stand out from the rest. I'm open to boudoir couple shoot too as long as it is an artistic shoot.
You may be interested in:
- Experience of Photoshooting with Nude Models
- Bikini Photoshoot is Underrated