Wedding Photography - Photographer Singapore
My wedding services include pre-wedding portrait photoshoot and event shoot for both ROM and actual day (gatecrash and/or banquet). Do read on to find out more.
Pre-Wedding Photoshoot
Working with happy couples can be more interesting than doing solo portrait. The ability for the subjects to interact help a lot in smoothening the expression.

My style of doing portrait shoot is more towards causal lifestyle with minimum posing, which is more natural and the couples don't get bored easily. I enjoy grabbing great expression in my photographs. Most of the time, I don't keep my subjects too tiny inside the frame because I believe a wedding photoshoot is more about the couple and thus should focus more on them rather than the scenery.

I've experienced working with clients who approach me after they've done a default "template" kind of pre-wedding shoot with another experienced photographer. They felt they were too unnatural after being posed by the photographer.
Boutique / Conceptual Pre-wedding Shoot
Wedding is a once-in-a-lifetime event that we should spend extra effort to make it memorable. Having a special pre-wedding shoot album can serve the purpose. If you wish to stand out from others, other than signing up for overseas prewedding shoot packages, which many couples are already doing, you can do conceptual shoots instead. We will come out with a few sets of interesting ideas related to your stories and create an unique wedding album.

Photography is my passion and I always look forward to create interesting work with couples who are fun and open-minded and don't insist in following traditional way of shoot. I like to bring forward concepts related to my models and amaze the viewers. Be it cute, quirky or sexy, there should be a story behind each photograph.

Tell me your stories. Let me know how you have met each other. Flood me with a list of your hobbies. Let's get crazy!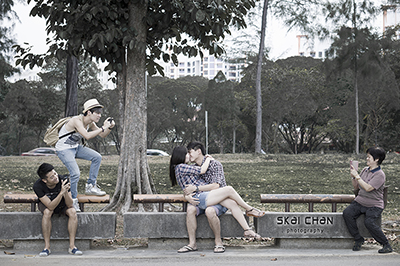 Solemnization / ROM, Gatecrash, Banquet
Wedding is the most joyous event and this is why I love wedding photography. I love capturing expression and moments and wedding photography can give me the privilege to do all these.

I prefer to shoot as the second photographer. It simply makes my photography work more flexible, such that I can roam around to capture more causal and interesting photos freely. Photography is about having fun.

If you need some special moments to be captured, you would probably want to do with more than just one photographer during your big day if your budget allows. While your main photographer is setting up things like your posture, your great expression at that moment will be priceless. From gate crashing to the actual traditional banquet, I will be there to help you capture the greatest moment of your life.

I do many portrait photo shoots and it is no surprise that I am experienced enough to shoot people.

Do scroll down to look through one of my wedding albums. Clicking on any of the photographs will open a larger copy in Facebook (quality has been reduced by Facebook though). If you like my work, do contact me for enquiry or discussion.