Skai Chan
Quick Navigation:
Skai Chan
Hi! I'm Skai, a 100% Singapore-born Chinese freelance photographer, based in Singapore. My languages are English, Chinese mandarin and cold humour. I dread formality.

I'm an artist who helps people to improve their lives. I document down special moments for eternal viewing to warm the cockles of hearts, and create impactful pictures, for businesses and individuals, to attract potential customers or even dates.

Clients hire me mostly for portraiture, event and party, and interior photography. I do both high-end (professional light) and casual (natural light) photography catered for different needs. I also provide consultations to eliminate problems and create the best possible quality photographs given any scenario. I focus on flattering and creative lighting and keeping my work natural.

Doing portraiture photoshoots allows me to have more control, including setting up professional lighting, to create unique personalised photographs. Being able to create the best lighting possible within the uncertainties for my event photoshoots also gives me a great sense of achievement.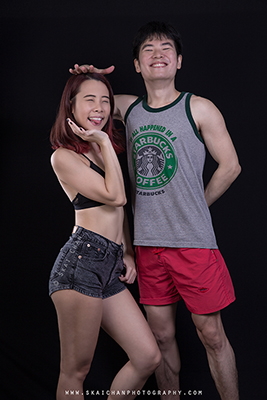 I do crazy things for photography. Sometimes I forsake my sleep for photo-taking and I don't mind getting dirty in exchange for good photographs. Photography is an addiction for me; it's one way I can express myself with. As an artist, capturing good photographs gives me a sense of living.

I believe in quality over quantity and I believe in under-promise and over-deliver. I'm lucky to be overwhelmed by the trust of many people who have approached me. I'm also extremely thankful to them for writing very flattering testimonials for me - and you should read them to visualise your experience of working with me.

I have devoted a great amount of my time to share my experience and tips to help others. I believe my photography and hard work will make a difference in society.


Professional Photography Equipment
I came from a low-income family. When I was young, owning a 200-buck family film camera was more than a luxury. This obstacle had buried my hobby. My dad passed away when I was in secondary three.

It was during my late teenage days when technology brought my dream into reality; the invention of the digital camera had overcome the high cost of buying films and developing them into hard-copy photographs. The decision to buy my first compact camera was still difficult though, as I was struggling to fill my stomach. I had never thought of doing photography professionally.

It was only when I was in my late 20s, my friends encouraged me to strive for my passion. I bought a mirrorless camera and embarked on my portrait journey. I soon realised I had to learn flash photography to improve my photography skill. I upgraded to an entry-level DSLR, a speedlite and accessories. Soon, I realised there would be lots of wear and tear to my equipment that I would soon need replacement.

Since I'm not financially stable, I make sure I only buy new photography equipment using the fund I've earned through photography. To do professional portrait and event photography, I soon upgraded to the cheapest full-frame DSLR possible. I also started purchasing more lighting and accessories, which are necessary to learn and improve my photography work.
Photographer's Injuries
I have suffered various injuries, directly and indirectly, due to photography. Some have since recovered, while some have not.
Sprained right wrist
It was during my first official event photography, which unfortunately required an insane number of clicks continuously for almost an hour. I held the camera very long on my right hand while my left hand was busy adjusting the speedlite on top of my camera to create the best bounce lights possible for every snap.
Numbness on the left shoulder
I carried my tripod sling bag for excessive time without taking sufficient rest. Eventually, I was left with numbness in my left shoulder, together with a kind of non-sharp pain. It didn't take away my strength and the pain would subside over time, but the injury would return whenever I load anything over the shoulder again. I suspect I have badly injured my shoulder blades.
Bad bruises on knees
On various occasions, I had to kneel to reduce the camera shake. The grounds happened to be rough. Multiple times, I got very badly bruised which would take months to recover from. The rest would hurt me for over a week at least.
Bruises on side of legs
On certain occasions, I had a more relaxing photography session where I could manage to get seated on the ground to reduce camera shake. However, I pressed onto the ground too hard to keep my camera stable and sometimes, it was just my silly mistake that I tried to get up too quickly that I caused some friction against the ground. Luckily, they weren't very bad bruises.
Sand fly bite
The worst insect bite that I ever had was during my solo exploration trip to Coney Island for an upcoming portrait photoshoot. I was lucky throughout my life that I had managed to keep my hairy legs clear, apart from a surgery scar, and the suspected sand fly bite left a permanent mark.
Mosquito bites
Since I do outdoor photography at all kinds of places, I do get attacked regularly. I can get over 10 mosquito bites for photography at places such as Fort Canning Park.
Injured pinky finger on the left hand
Many keyboard shortcuts require the use of the "ctrl key" in combination with other keys. The last finger on my left hand was somehow injured due to excessive use. In the year 2021, the joint was hit by a fan inside my desktop computer when I was trying to fix something, and somehow the injury worsened.
Left wrist injury
My left wrist started giving me pain out of a sudden. It was likely injured during a photoshoot trip due to the transportation of equipment in some weird angles that the muscle group wasn't commonly used. The pain lasted for months and I was diagnosed by myself that a vein was injured, and it led up to my elbow.
Dry eyes
The excessive staring at the computer screen left me with frequent dry eyes, which caused fatigue. The rushing of photo albums that would usually take days for post-production and online marketing were devils.
How I Became a Photographer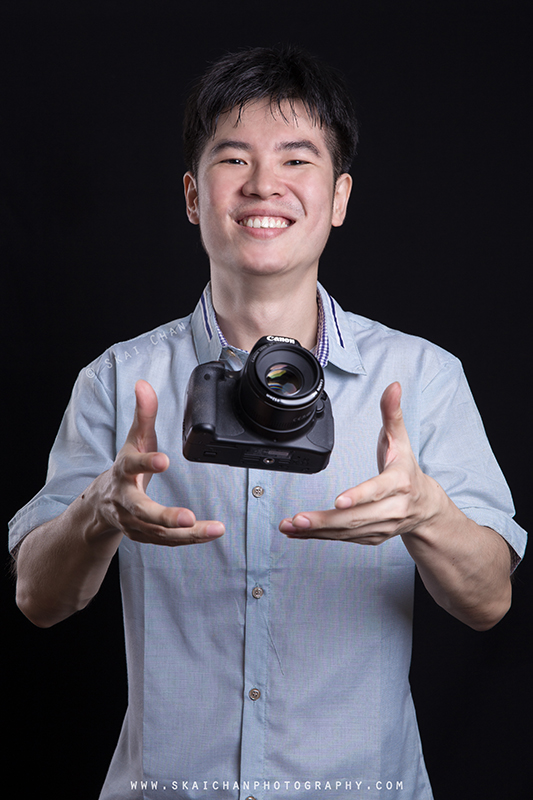 How I Became a Freelance Event Photographer
I'm a sentimental person who loves documenting memories. There's no lack of opportunities for me to practise event photography skills. At times, I struggled between hands-on and photo-taking at the same time when I was doing volunteering work with my friends. My family, relatives and many friends supported me in my hobby.

The event pictures from my volunteering work helped me to gain clients. Over time, more clients got to see both my event and portrait photography work and started hiring me.

Unfortunately, there are too many photographs in every event album and I'm unable to continue to update my event portfolio.
How I Became a Freelance Portrait Photographer
When I was working in Clementi ITE, one of my colleagues sighed that she was ageing fast. It greatly affected me because she's an extremely nice and capable lady, and our team was close; most importantly, she's a hot babe who's quite confident. This inspired me to use photography to beautify ladies and keep memories of their beauty.

I didn't have the budget to pay for freelance models to learn portrait photography. I started approaching volunteer models both online and offline to practise and met with lots of arrogant rejections. Since most of the models who were willing to do portrait photoshoots with me couldn't do proper makeup, I had to spend a lot of time on PhotoShop (post-production). While I could have expedited the quality of my portrait portfolio fast with the help of professional models, I'm glad the non-models have helped me to learn more of the basics; moreover, my target audience is normal girls and not professional models.

My friend, Tricia Lee, saw my enthusiasm and started guiding me along. She spent a huge amount of time and energy going through every photoshoot album with me, to spot tiny flaws and coach me accordingly to the commercial standard. The quality of my portrait work soon improved tremendously and aspiring models started approaching me instead. Then, clients came along.
How I Became a Freelance Interior Photographer
I grew up in a house that was plain (and clustered) and thus I was always fascinated by houses with nice interiors. This was one of the reasons why I loved visiting my friends' houses. I think nice things should be documented and interior photography helps a lot.

Both my portrait and event photography work helped me gain my first interior photography client as they were eye-catching on social media. When the opportunity came, I grabbed it. The first thing I did was to get a reasonably good tripod, which was almost covered by my first interior photography project. After that, I had the luxury to work with some very interesting interior design companies, furniture shops and homeowners.
My Other Photography Work
Types of Clients Skai would Reject
I will reject them directly or indirectly.

Just as clients choose photographers, photographers do choose their clients too. My experience tells me not all money can be earned. Dealing with a problematic client can result in a huge loss of time and energy; it does not worth it. Besides, good clients can build a rapport with me easier, so that I can produce better work.

I spend more time and effort than most other photographers on every photography project. Therefore, I can only take up a limited number of photoshoots per month. My target audiences are good clients who appreciate photography and want to obtain high-quality images.
Clients who have unrealistic expectations: Photographers may turn away clients who have unrealistic expectations for the final images. This can include clients who want a specific style or look that the photographer is not comfortable with or experienced in.
Clients who have unrealistic deadlines for the final images: Photographers may also turn away clients who have unrealistic deadlines for the final images. This can be a major stress for photographers and can disrupt their workflow. Photographers need to have enough time to edit the images and deliver them to the client in high quality.
Clients who are not willing to pay a fair price for services and expenses: Photographers may turn away clients who are not willing to pay a fair price for their services, such as clients who want to negotiate the price or want the photographer to work for free. Also, clients who are not willing to pay the required expenses such as travel costs or equipment rental fees.
Clients who are not easy to work with: Photographers may turn away clients who are not easy to work with. This can include clients who are not responsive, who are not respectful of the photographer's time, or who are not willing to communicate effectively.
Clients who are not willing to provide a deposit: Photographers may turn away clients who are not willing to provide a deposit. This can include clients who are not willing to put a deposit down to reserve the photographer's time and services.
Clients who want to use the photographer's images or services for something I'm not comfortable with: For example, illegal or unethical activities, adult content, promoting hate speech or discrimination, political campaigns, religious purposes, weapon or tobacco advertising, or controversial medical products or services. This could be because of personal or professional reasons, or because it is not legal in the region where they operate.
Clients who are not prepared for the photoshoot: Photographers may turn away clients who are not prepared for the photoshoot. This can include clients who have not provided the necessary information for the photographer, such as location details or a list of the people who will be in the photoshoot. It can also include clients who have not arranged for necessary equipment or clothing for the photoshoot.
Clients who are not willing to provide references: Photographers may turn away clients who are not willing to provide references. This can include clients who are not willing to provide the names and contact information of previous clients that the photographer can contact for a reference.
Clients who don't appreciate or undermine professional photography: Photographers may turn away clients who don't know how to appreciate high-quality photographs or who undermine professional photography. This can include clients who can't tell the difference between high-quality and low-quality work and think photography is simple, or clients who have a history of requesting edits or revisions that the photographer does not feel are in line with their artistic vision. They may also request to use cheap equipment, want to direct the photographer's work, or have poor taste in photography.
Clients who have a history of not following through on their commitments: Photographers may turn away clients who have a history of not following through on their commitments. This can include clients who have cancelled photoshoots or not paid their bills on time.
Communication
Communicating with Me
I rely mainly on my computer
Typing on the soft keyboard on my smartphone is slow and highly inefficient; moreover, the small screen requires me to scroll up and down to proofread my messages before sending them out. Worst still, I usually type a lot for every reply. It's just too inconvenient to do the typing on my smartphone. I get extremely frustrated relying on the phone at times.

Since sitting in front of my computer is kind of a luxury to me nowadays, please bear with me if I can't reply to you immediately.

Before I got my first Android smartphone, I was tempted to upgrade to Blackberry instead for the physical keyboard. However, I foresee that good usability (with APPs) for Android users would outweigh the privilege of having a physical keyboard.
My phone is usually in silent mode
My phone is in silent mode most of the time. That means there's no point in calling me unless you have informed me earlier that you need to talk.

Text me instead!
I don't know my photography rates by heart
I do many kinds of photography, such as portraits, events and interior/ real estate. For portrait alone, there are different rates and optional services to be added. Therefore, if you happen to ask me for my photography rates in real person or via phone call, I likely won't be able to give you a proper quotation without going through my document or website.

If you somehow can't find or understand my photography rates for your specific photography need, just text me with as much detail as possible. However, you should know the basic rates on my website to not waste both our time.
I can't reply to every enquiry
I'll try hard to assist all people who truly appreciate my work and are looking forward to helping me or hiring my photography services.

However, the fact is that there are various weird or ridiculous requests that I already know won't turn out well. Some people are obviously in different frequencies that, in my experience, will only be wasting our time to engage in the first place.
Trying to undercut my photography rate is a big turn-off
I can't focus properly if I can sense that the person whom I'm trying to help is trying to squeeze me hard. I have some nasty experiences and I understand that it's just not worth it to take up some projects. It's not that I'm loaded but there's a high chance for problems to emerge, especially after the photoshoot.

Providing photography services is different from selling products or conducting large classes. If I were to be selling certain products, giving some discounts would at least be ensuring that my cash flow has no issue, whereas, I can be selling them to many clients at almost the same time. If I were to be conducting a huge class, an additional student with a discounted rate is a bonus.
I'm Busy
As most freelance photographers do their own post-production and marketing work, they spend most of their time in front of their computers. This, unfortunately, may give others the wrong impression that they are easily available.

I'm usually overwhelmed and can only take up a few projects every month.
Update website
I've spent a vast amount of my life on my photography website to showcase my work and educate people. The design of the colour, font, navigation and page layout, coding and copywriting requires a huge amount of time.

A massive amount of my time was spent researching, writing and proofreading my various photography tips and articles. Till now, there are a gigantic amount of language issues all over my website.
Edit photos
Photo-editing usually takes up the majority duration of the entire production. Advanced editing may take on average, around two hours for each photograph, depending on various factors.
Partner
Throughout my life, I've been searching for my soulmate. I experienced various rejections during my younger years before being hurt by a few playgirls. I did meet quite several nice girls but we realised that we weren't compatible. I've finally met my dream girl who has given me unconditioned love. My top life priority would always be her and we would try to compensate for the loss of our youth years as we didn't meet earlier.

We stick together almost 24/7. We walk a lot to get food and grocery, and any impromptu errand her creative mind can suggest. On a usual weekend, we would go out for late breakfast, and by the time we reach home, it would be almost lunchtime. After lunch and grocery or some impromptu shopping, we would be home by late afternoon. We may nap or do some housework before dinner. As we love strolling around instead of taking public transport, we spend a lot of time travelling.

To help you understand better, imagine yourself conquering 10,000 footsteps on a weekday (work from home) and 20,000 footsteps on a weekend - estimate the amount of time you would have to spend outdoors.

I used to go to bed near sunrise and work almost every moment upon waking up. My partner has helped me to restore a lifestyle completely, which improves my health. However, my working time was shortened to mostly 10am to 6pm on weekdays to fit into hers, which forced me to step back on some of my work due to the time restriction.
Upload new photo album
For every set of photographs that I've done, I'll spend time sharing them online, unless the client pays me extra for privacy.

The first step is to select the photographs to be uploaded, followed by reducing their resolution (for web viewing purposes) and renaming the files properly. The write-up usually takes the longest time, such as half a day of work on average. After that, a new web page (coding) has to be created to put in the images and text. Other pages will then be linked to it, which involves coding as well. Eventually, all the files will be uploaded to the server.

Look at the number of photo albums I've uploaded and estimate the effort.
Answer new enquiries
I receive new enquiries for photoshoots often, and many are simply doing price-checking. There are enquiries that I may need to take quite a lot of time to think over so that I won't over-promise anyone. Occasionally, there are also weird requests.
Brainstorm for shoots
Since I personalise concepts for individuals, and I try not to repeat ideas and locations, it takes a lot of time to research and brainstorm for shoots.
Discussion with clients
I just need one client who has lots of questions to keep me very occupied. Some clients do have many interesting ideas and trust me a lot to give them good feedback.
Social media update/ PR
Social media such as Facebook and Instagram are monstrous time-eaters. Posting good work alone is never sufficient; a lot of public relations work is required.
Unforeseeable issues
There are times when my equipment and tools will be down. They include computer hardware and software and photography equipment such as my camera, lenses and other accessories. I need to spend time trying to fix them.

For example, in the late year 2021, I spent days trying to fix my computer, including two days at the repair shop, and I still had to go elsewhere to go get some parts fixed/ exchanged.
Self-improvement
Everyone needs to pick up new knowledge and skill. I do keep myself updated with news and new skill. I spend a lot of time on YouTube and sometimes Udemy.
Family
Family is part of my life. I especially love spending time with my nephews and niece. I also accompany my partner to visit her family. Every gathering occupies the entire day, and sometimes till late at night.
Tuition agency business
I have a tuition agency business that I need to do administrative work for. I'm the web producer and the coding part for the website is much more hectic than my photography website. Every year, I also produced Calendar Planner and Calendar for the public, totally free of charge.
Friends
I love making new friends although I hardly have time to meet up with most of them. I do occasionally keep in touch with some of them.

I also have a businessman friend who acts as my mentor. He would randomly call me and pick me up to go for coffee. Whenever I need any gym space for a photoshoot, he would settle for me. Of course, I do my part as a friend by providing him with my little knowledge and ideas for his businesses.
Volunteering work
I have a group of kind friends who are crazily into volunteering work. Therefore, I do have the opportunity to get involved once in a while, apart from providing volunteering photography services. My partner's involvement in other volunteering groups(s) gets me involved as well.
Other commitments
I do have other commitments other than the above.
Who Will Dislike Skai?
I count myself very blessed because the majority of the people whom I've worked with are fantastic people. The testimonials summarise it.

Nobody can make everybody like him. After doing photography for years and holding my principles well to not harm the already hurt photography industry in any way, I still can't help but offend some people unintentionally.

For example, I have to reject hot babes who propose I photograph them in little clothes as a form of collaboration (unpaid), which they would be using the professional work as a catalogue to sell those clothes. How could professional photographers make a living if nobody needs to pay for commercial work anymore?

If I have to offend even hot girls (who have many followers online), who else can't be offended?
Cheapo
There are cheapos who try to ask for discounts or even free services. I don't allow anyone to devalue my work and thus I would rather turn them down or simply ignore them.

I'm not proud nor am I loaded. Working with bad clients will drastically drain my short available time, or may even affect the quality of my work. No matter how hard I've been screening through the enquiries, there's no foolproof way to filter them. I'm quite blessed that the number of good clients outweighs the bad ones by a lot.
Failed aspiring models
I had helped many aspiring models to build their modelling portfolios when I was more available in the past. They usually sang high compliments on me and my work when they approached me. The terms and conditions were clear on my website and they agreed. I showed them great respect and photographed them professionally to help them get tasteful photographs of themselves for experiences, memories and/ or other purposes.

Eventually, some of them may approach me years later to make me remove the albums. They would cite ridiculous reasons instead of compensating me properly for my work (photography, copywriting, editing of websites and social media accounts).
Black sheep
I have been writing educational articles on my website to help people do the best I can. Some of these articles do include bad photography culture and even blacklisted photographers. Although I don't mention any name, some people may, out of guilts, turn defensive and start bearing grudges towards me.
Over-sensitive people
Besides, due to my lack of supremacy in my language skill and also my bluntness, I may have used words/ terms that are sensitive to some people. For example, the term "flaw" describes the common skin issues that my clients have often complained about and demanded to be removed - some people twist my words to incite that I'm trying to insult others.
Jealous amateurs
I was once informed by a female model friend that some amateur photographers criticised me in a Telegram group because they thought I was sharing too much photography knowledge online (on my platforms). Since I focus on my photography and don't get involved in events and forums, I don't get to interact with many photographers to offend them directly.

I humbly suspect that it's partly due to the number of female models who have trusted and approached me for photoshoots; in contrast, amateur photographers likely have difficulties approaching girls. Besides, my Instagram account was once very popular when I was extremely active, which was before Instagram changed its algorithm.
Two mentally unstable people
I've stepped on the tail of a makeup artist who self-proclaimed that she had some mental illness. Then, I caught her sowing discord between me and some project-mates. Eventually, she succeeded in turning a snowflake into hating me. Snowflake started spreading lies. To this day, I've no idea what I've done or said wrongly to her - I didn't murder her entire family.
FAQs
#1 Experiences
#2 Personal
Do you do links exchange?
Yes, I do links exchange with good quality websites!

What is the most difficult thing about photography?
Educating clients. To most clients, photography is just about clicking the camera's shutter and they think using a good camera alone is enough. They usually don't understand all the constraints. Many things are very technical and thus they won't be able to know even if I were to explain them in detail. For example, when I warn them about lighting issues, they usually won't care. To them, they simply want good photos even though they are likely not able to judge the quality of photos. Whereas for shoots like interior and product, they may even try to be the expert to estimate the time required instead.

How good is your photography skill?
Photography is wide and has many categories. I know most of them but do not have practical experience with some. My current experience is mainly in people (portrait and event shoots) and interior photography. When compared to most hobby photographers, I'm better than them but I'm probably still behind those very experienced professional photographers in terms of skill. Hence, I try to be creative and hardworking at times to compensate for it. Viewers can judge by themselves through my latest work.

Will you lower your rate just to take up more photoshoot projects?
No. The quality of photos matters most to me and I don't want to feel underpaid and under-appreciated, and eventually put in only 50% of my effort. Most of all, I don't wish to undercut the market. However, I promote certain types of shoots that I'm interested in.

How open-minded are you?
When it comes to photography, I'm extremely open as long as the shoot is tastefully done. My character is, however, very traditional.

How many shoots do you do in a month?
I'm very inconsistent in this and thus unable to give an answer. I can only say that I'm doing very limited number of shoot.

Why don't you go to all the car and IT shows to take photos of models for marketing, networking and building of portfolio?
1. I'm very busy.
2. Too many stalkers and perverts are doing that and I'm not confident that people would not associate those people with me.
3. I'm a passive guy and none of the models has invited me personally to show my support - I'm not taking into account those models who do mass spamming on Facebook.
4. I'm not those PR guys who can fake smiles to network and speed up their success.

Why don't you take photos with every model you have shot with?
I usually forget it after a hard day work.

Would you get a model as girlfriend?
I will avoid. I have come across too many stories of photographers with ill-intention and I don't want to keep worrying for my girlfriend whenever she goes for job.

Can I borrow your equipment (camera, lens... etc)?
No. I may need them any time, including the spare ones, and it's going to make life very difficult for me if anything happens to them.

Why do you not want to work with PR/advertising agencies and 'middle-man' companies?
Bad experience - low budget, ridiculous demand and extremely late payment. Photography is a fun thing to do and we should not destroy the good feeling about it. Most advertising agencies in Singapore will probably give the same problems while big agencies with generous clients will rather go to big photography companies than work with a low-lying freelance photographer.

Why don't you like to talk over the phone?
Need records for evidence. Besides, I have poor memory and, unlike texting, I can't refer back to the conversation. Since every request is different, I will need time to work out the quotation. From my experience, most 'clients' are just wasting my time. It is not worth the time to go over the phone before the clients have confirmed they are okay with the fee, which is usually the most important factor to them.

What are your non-photography worries for every shoot?
Travelling - 'public' transport in Singapore is getting more unpredictable and I can't estimate the travelling time anymore. My meal time is another big problem for the shoots are usually done at weird hours while photography exhausts me both physically and mentally, draining off more energy than sports.

#3 General
Why some photographers don't like to take up jobs from friends/relatives?
Most of the time, these people are expecting special discount on account of the relationship with the photographers. This can be problematic to the photographers and may sour the relationships.

Will I get 100% satisfied photos if I were to engage a big photography company for my shoot?
For event and non-studio photoshoots, no (not 100%). The turnover rate may be high and thus the photographer being assigned to you may be less experienced. However, for shooting inside the company's studio, it's likely to be yes since everything, including the lighting, can be pre-set like a template.

Why is DSLR necessary when phone cameras can do reasonably good job?
When lighting condition is good, actually phone cameras can produce quite good photos especially when you only need the photos in small resolution for web purpose. You can judge the difference in the quality of photos when you enlarge them or print them out. Most of all, you can't play much with the aperture and shutter speed, and the autofocus speed will be slower.

Does skin colour affect people photography?
Yes. Darker skin tone absorbs more light and thus the lighting and post-production method/setting will be different from taking photos of a person with a lighter skin tone. If you put two people with very different skin tones in a photo during an event, it will be more challenging than usual.

During a big group shoot with kids, why don't you just keep snapping multiple times?
This is a technical issue for flash photography. Having kids as part of the group can pose difficulties as it may not be easy to grab the kids' attention to get everyone looking at the camera. Under the best scenario with good ambient lighting, I can just snap photos multiple times. However, when taking group photos, it will require a smaller aperture (bigger depth of field) to keep everyone in focus and thus there may not be enough light. Very often, speedlite (flash) is required for indoor shoots. The problem is that speedlite requires time to recharge the power from the batteries. If I were to snap before the speedlite is fully charged, the photo will turn out to be underexposed (dark) even if you can see some flash firing out from the speedlite. Therefore, there will be an interval for clicking the camera's shutter. This is the usual problem photographers face. Photographers can buy an additional battery pack to attach it to the speedlite but it means the extra load on the body.

What are the challenges of taking random group photos?
Apart from the technical limitation of requiring a small aperture (less light) to keep everyone's face in focus, the subjects to be taken can pose more challenges. For example, one or two people inside the group may be distracted or are trying to get more people to join in, while the rest are insensitive to the ho-ha. If there is any outspoken person within the group that will demand photos to be taken immediately despite the mess, the photos will not turn out well. Overall, it's the communication with the subjects that will pose the greatest challenge.

---
If you are interested in working with Skai as your photographer, do contact him.