Tattoo / Ink Photographer in SG
Quick navigation:
Tattoo/ Ink Portrait Photo Gallery
Photo Galleries:
🔍8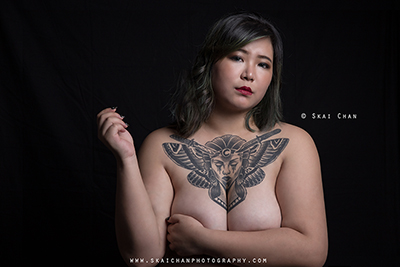 1. Isabelle Raphaela Leong
@ Photography studio @ Tanjong Pagar
🔍4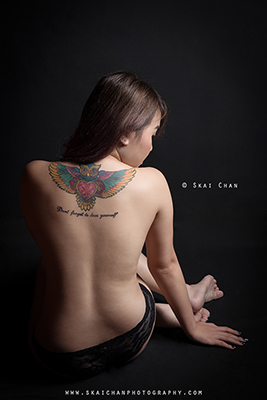 2. Kelly Lim
@ Makeshift photography studio: Gold's Gym Singapore @ Lim Teck Kim
Photo Galleries:
Tattoo / Ink Photography Prices & Packages
Basic 1
Basic 2
$350 $320
Up to 40 photos with basic enhancement
Up to 2 hours
🌞 Natural & ambient light
Basic 3
Pro 1
Pro 2
Pro 3
High-End 1
High-End 2
High-End 3
Studio Shoot
1) My studio, 2) External studio (that you've booked) or 3) Makeshift studio @ your location
View my studio page for more information.
All booked duration includes changing and adjusting of equipment, wardrobe, makeup, hairstyle, and travelling (if applicable) during the photoshoot.
All photos will be returned in high resolution JPG format.
Please read 1) Checklist for hiring a photographer, 2) FAQ & 3) Service Agreement before making enquiries.
The prices are quoted to compensate for the amount of effort and time I've to spend, and wear and tear of equipment, in order for me to continue with my photography services. Thus, I'm happy to work on any package.
Ideas and advice will only be given to serious clients after a booking fee is being placed.
Add-Ons (optional)
Professional hairstyling & makeup: 1 look at $150 for ladies; $120 for men. There's a surcharge of $50 for any session that starts before 6am. Please enquire for final prices. I don't take any commission from the HMUAs to ensure that they provide the best services to you at their best rates.
Additional photos with advanced enhancement (skin retouching) at $40/photo; discount of $10/photo if any HMUA under my list of HMUAs (hair and makeup artists) is hired.
$100 for privacy of the photos (photographer will not put them up on portfolio & social media).
Express delivery of photos: check rates & availability with the photographer when seeking quotation.
✆ Contact me for customized package for your need.
Why Do People Get Tattoo / Ink?
Gone are the days that the majority of the people would relate tattoos to gangs and unsolicited activities; of course, it's still very much dependable on the art work chosen. The increasing number of people putting inks on their bodies very much help to create a new norm. As the society come across more kind people who have tattoos on their bodies, it helps to lift the bad impression.

People get inked for various reasons, such as to commemorate a person, pet or event. Some couples also get tattoos to vow for their love. Some people simply love having an unique piece of tattoo on their bodies to represent themselves. Others think it's cool to own at least one.
Why Do People Do Tattoo / Ink Photoshoot?
All tattoos are unique. Some people may choose to do similar tattoos that are common, such as a star symbol, but eventually the size, colour and the skill of the tattoo artists would make a big difference.

People who ink their bodies obviously love their tattoos and want to keep a good memory of it. The fact is that when people age, their skin might lose the firmness and thus the tattoo might deform or fade. It also applies to people who manage to gain or lose their weight. It's good to document the tattoo down while it's still "fresh".

Some people may want to showcase their tattoos while others love tattoo photography for the sake of art. It's also useful for tattoo artists to do a tattoo portrait photoshoot for marketing purposes for their tattoo businesses.
Difficulties in Doing Tattoo Portrait
Doing a tattoo portrait means capturing both the owner's face and the tattoo. It's different from doing a pure tattoo photoshoot that focuses only on the tattoo or a casual portrait photoshoot that simply displays the model's face. Of course, the client may request the photographer to focus on one of them for a few number of shots.

The biggest challenge is to light up both the face and tattoo properly.

Tattoos are usually darker than skin and thus given the exact same amount of light, the face would usually turn out brighter. Whereas lighting usually come from a higher angle that's nearer to the face, the exposure on the face would be higher (brighter) than the tattoo. Since the focus is on both the face and tattoo(s), the lighting on the background would also very much distract the viewers' attention.

The challenges above can be solved by using professional lighting. It requires the photography equipment, skill and creativity in order to create flattering, eye-catching and natural looking tattoo portraits.

From my experience of working with tattoo lovers, there's another problem - the tattoo would be slightly distorted whenever the skin nearby is being pressed or stretched. Due to this, it's even more challenging to pose the model in a flattering way to show more curves (for the ladies) and look slimmer.

Due to all the challenges above, it usually takes much longer time to do tattoo portrait photoshoots. That means it may take several hours just to create a few good photographs.

As for the post-production, it usually takes more effort and time when more skin is revealed.
The Tattoo Portrait Photographer
I personally won't put any tattoo on my body because I'm fickle-minded and might change my mind in future if I were to come across a "better" tattoo idea. However, I'm still enjoying myself creating good art work with tattoo lovers.

Anyone can use a camera to do a tattoo portrait but not many people can create good tattoo portraits.
Advantage of Doing Tattoo Portrait with Skai
My photography primarily strives at making the model look flattering, natural and eye-catching. Even if the concept of the photoshoot is sensual, I'll keep them tasteful and artistic. I work with professional lighting in order to achieve the goals.

Contact me to discuss on your tattoo photography!