Fashion, Glamour, Santarina Photo Shoot - April Toh




April is one of the most cooperative, flexible and professional models I have worked with. She can go into the forest and climb the hill to get good photos - her easygoing and hardworking character helps to make things work out. Being a humble girl, April actually can do much better than she claims. She knows her flaws and is ready to accept criticism to improve herself.

One interesting thing about her is her transformation from a "bookworm" into different other looks - feminine, cute etc. She may not have the skill of a good makeup artist but she can do the basic job. She has proven that there are many hidden beauties in Singapore.

April is also a careless girl who can lose multiples mobile phones within a year. In contrast, she has quite a vast experience in life as she travels a lot to other countries for both holidays and studies. Beneath the sweet girl who people may belittle, she is smart and also knows who are truly nice to her. She is not just a flower vase. She is a shopping queen who has wardrobe for any theme you can name. She knows how to enjoy her life well and she knows what she wants.

Look 1: Lifestyle / Fashion

Our initial plan for the day was to shoot at an abandoned house. Unfortunately, we did not have luck. Since her feet were not fully covered, we had to give up when the construction worker warned us of snakes. We settled for a nearby place (Botanic Gardens) to see what we could get. However, it was already "late" at the worst timing of the day and we could hardly find a suitable location under the provoking sun. We decided to call it a quit soon. I was glad we managed to get a few natural photos. It was far from what I expected due to the lighting but her sweetness had overwhelmed the photos.

Look 2: Glamour / Feminine

After lunch, our trip to ION Sky was wasted as well as the place was occupied by an event and thus restricted to the public. We had miscommunication and she changed into the wrong outfit but she was fine with the extra trouble. We went to Mount Faber on a last minute decision and April made no grumble about the climbing. Over there, we were joined by non-stop batches of noisy tourists. As there were angles from the sides that could be quite unglamorous, I was hesitating to continue but April decided to proceed with the presence of the "audiences". I was totally amazed by how professional she was.

Look 3: Santarina

After dinner, we ended the shoot with Santarina costume for the coming Christmas. The costume was actually very different from the sample photo given by the website she had purchased from. She also had problems putting on the boots but she did not give up despite there were quite a number of people around. Our fingers were hurt by the time it was done - after probably more than twenty minutes. Since it was windy and there were many passers-by, I was not able to set up better lighting. The rain came before we could move to another location but I was glad that we managed to snap some cute shots.

To conclude, April is a rare model, not the prettiest but certainly one of the best to work with. It was her attitude and trust in me that enabled me to perform my best. It was by then the toughest and longest shoot I had experienced and I was amazed by her stamina, such that she could stay energetic for the entire day - from early morning till late night.
If you like the photos, do show some support by following my
Instagram
&
Facebook
, both at
@skaichanphotography
.
If you wish to own similar pictures of yourself like the album above, do
contact me
for discussion.
Other Conceptual Photoshoot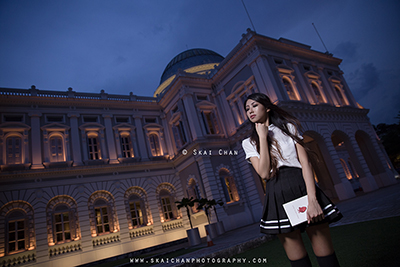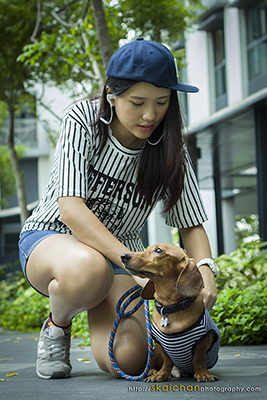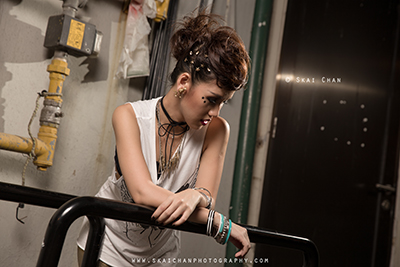 More
Conceptual
albums

View ALL albums