Note: I'm currently doing a giveaway portrait shoot in Facebook. Do view the post on my Facebook page to take part.
Do help me to LIKE and share the post even if you're not going to take part!
Corporate Group Photo Shoot - DPG (Prudential)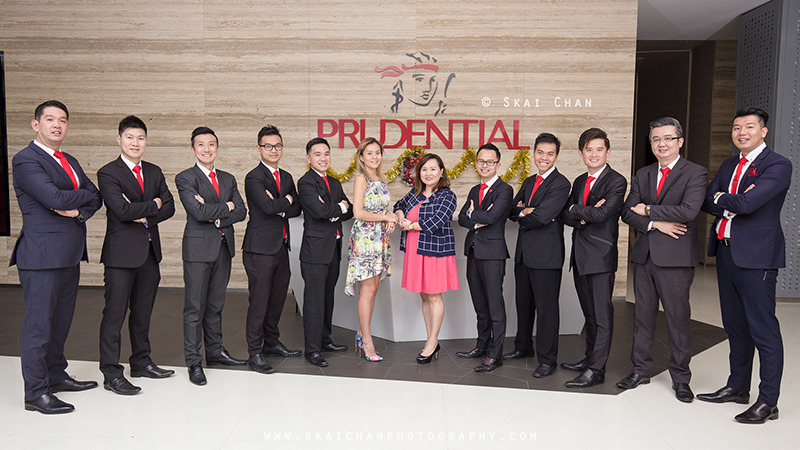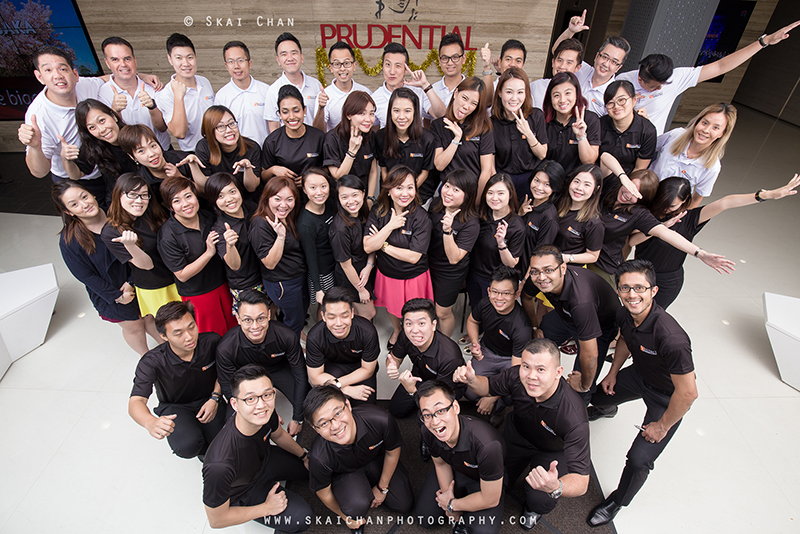 For this corporate group shoot, I had to purchase another more powerful strobe for the group size was huge.

Thanks to Leslie for chauffeuring me and my bulky equipment and the various managers for arranging the group while I was busy with the set-up.
Venue:
Prudential @ Scotts
Date:
09 December, 2016


Model:
Financial Planners from DPG (Prudential)
Credits:
Leslie Eng


Camera:
Canon 6D
Lens:
Canon 16-35mm F4L
Strobe:
Cononmark i6, Cononmark B4
View my current photography equipment list
If you like the photos, do show some support by following my
Instagram
&
Facebook
, both at
@skaichanphotography
.
If you wish to own similar pictures of yourself like the album above, do
contact me
for discussion.
Other Photoshoot
| | | |
| --- | --- | --- |
| Conceptual Couple Photoshoot | Kaidi & Ivy | Marsiling |
| Corporate Photoshoot | Nickolas Padgalskas | The Lawn @ Marina Bay |
| Corporate Photoshoot | Ghislaine Nadaud | The Lawn @ Marina Bay |
| Art Implied Nude Lifestyle Photoshoot | Eva | Indoor, Ang Mo Kio |
| Fashion Photoshoot | Constance Huang | LLoyd's Inn |
| Male Fashion Photoshoot | Gilbert Lew | LLoyd's Inn |
| Children Photoshoot | Vera | Ang Mo Kio |
| Lifestyle Photoshoot | Ivy Tan | Tiong Bahru |
| Fashion Photoshoot | Lovelle Tan | Gold's Gym @ NTU Alumni Club (Gold Wellness) |
| Yoga Photoshoot | Bai Jia Wang | Helix Bridge & Marina Bay Sands |
| Conceptual Photoshoot | Ivy Tan | Bukit Brown cemetery |
| Lifestyle Photoshoot | Charis Tan | Sunsetopia (Sunset Way) |
| Corporate Photoshoot | Wong Youer | Makeshift studio, Tanjong Pagar |
| Fashion Photoshoot | Shermaine Koh | Sengkang Riverside Park |
| Bikini & Monokini Photoshoot | Svetlana Dabizha | Siloso Beach, Sentosa |
| Corporate & lifestyle Photoshoot | Phang Tsang Wing | Ritz Carlton hotel |
| Fashion Photoshoot | Wanping | Portsdown Road water tank |
| Couple Photoshoot | Kaiwei & Stella | Punggol Ranch, Punggol Beach |
| Prewedding Photoshoot | Shengyang & Huiting | Banana Leaf Apolo (Race Course Road), Little India, Sunsetopia, Upper Seletar Reservior, Henderson Waves |
| Conceptual Photoshoot | Puang Shujuan & Tan Rouying | Tanjong Pagar |
| Lifestyle Photoshoot | Karina Cognomen | Kovan Residency |
| Implied Nude Yoga Photoshoot | Karina Cognomen | Kovan Residency |
| Fashion Photoshoot | Puang Shujuan | Duxton Hill |
| Art & Boudoir Photoshoot | Hannah Lee | Klapstar Boutique Hotel |
| Yoga Photoshoot | Sharon Ng En Hui | Vivocity |
| Glamour Photoshoot | Cheryl Alicia Chua | Bishan-Ang Mo Kio Park |
| Editorial Photoshoot | Boon Hui | Bishan-Ang Mo Kio Park |
| Corporate Photoshoot | Kyan Soo Wei Qiang | Indoor |
| Corporate Photoshoot | Tengy Gay Teng Yong | Indoor |
| Conceptual Photoshoot | Boon Hui | Gold's Gym, Lim Teck Kim outlet |
| Prewedding Photoshoot | Leslie & Sally | CHIJMES |
| Fashion Photoshoot | Erica Chan | Singapore Botanic Gardens |
| Fashion Photoshoot | Sirachar Ong | Little Guilin |
| Fashion Photoshoot | Angela Ni | LePark, People's Park Complex |
| Bikini Fashion Photoshoot | Martina Novotna | Tanjong Beach, Sentosa |
| Corporate Group Photoshoot | DPG (Prudential) Group | Prudential @ Scotts |
| Corporate Photoshoot | DPG (Prudential) | Prudential @ Scotts |
| Art Photoshoot | Kelly Lim | Gold's Gym, Lim Teck Kim outlet |
| Night fashion Photoshoot | Tan Rou Ying | Haji Lane |
| Conceptual Photoshoot | Nathalie Blue | Gold's Gym, Lim Teck Kim outlet |
| Conceptual Photoshoot | Constance Huang | Boat Quay |
| Cheerleading & Dancing Photoshoot | Jasmine Tan | Kallang Wave Mall |
| Maternity/Pregnancy Photoshoot | Monica Weng-Ong | Punggol Park, Indoor |
| Lifestyle Photoshoot | Emilia Yoyo Ngai | Tanjong Pagar Railway Station |
| Fashion Photoshoot | Beverley Angkangon | Coney Island |
| Travel Photoshoot | Ao Xuan | Southern Ridges |
| Lifestyle Photoshoot | Ao Xuan | Boat Quay |
| Editorial Photoshoot | Angie Mui | Home |
| Editorial Fitness Photoshoot | Jolene Chui | Gold's Gym Singapore, The Strategy |
| Lifestyle Photoshoot | Low Kah Yoke | Grand Copthorne Waterfront hotel |
| Fashion & Night Fashion Photoshoot | Marjorie Lining | Gardens by the Bay |
| Glamour Photoshoot | Rachel Liew | Fort Canning Park |
| Bikini, Lifestyle, Fitness Photoshoot | Beverley Angkangon | Siloso Beach, Sentosa |
| Pre-wedding Photoshoot | David & Jess | East Coast Park |
| Boudoir & Glamour Photoshoot | Jun | Tanjong Beach, Sentosa |
| Fashion Photoshoot | Alessandra Wong | Marina Bay Sands |
| Fashion Photoshoot | Joanne | West Coast Park |
| Animal Conceptual Photoshoot | Luckie Chan | Indoor |
| Lifestyle Couple Photoshoot | Tommy & Evelyn | Tiong Bahru |
| Corporate Photoshoot | Thomas Ng | ShuBox Design showroom |
| Prewedding Photoshoot | Ryan & Yuanzhi | Marina Bay Sands (MBS) & Gardens by the Bay |
| Lifestyle Photoshoot | Mitsuya Nakata | Concourse Skyline |
| Boudoir Photoshoot | He Ling | V Hotel Bencoolen |
| Fitness Photoshoot | Kayla Wong | Sentosa Broadwalk |
| Conceptual Photoshoot | Nathalie Blue | Labrador Park |
| Bridal Photoshoot | Jessyca Ang | Hortpark |
| Dancing Photoshoot | Vanessa Lum & Tan Jiamin | Pinnacle@Duxton |
| Dancing Photoshoot | Tan Jiamin | Pinnacle@Duxton |
| Dancing Photoshoot | Vanessa Lum | Pinnacle@Duxton |
| Fashion Photoshoot | Leila Louise | St Joseph's Church & National Design Centre |
| Couple Photoshoot | Brian & Claudia | Botanic Gardens, Orchid Garden |
| Bikini Photoshoot | Lovelle Tan | Novotel Singapore Clarke Quay |
| Bikini & Fashion Photoshoot | Bianca Pietersz | Tanglin View |
| Fashion, Glamour, Santarina Photoshoot | April | Botanic Gardens, Mount Faber, Vivocity Rooftop |
| Pre-wedding Photoshoot | Terry & Lynwen | Changi Airport, Punggol Waterway |
| Fashion Photoshoot | Joey Tay | Marina Barrage |
| Fashion Photoshoot | Nowell Tan | Marina Barrage |
| Fashion Photoshoot | Emily Chan | Marina Barrage |
| Night fashion Photoshoot | Lovelle Tan | Clarke Quay |
| Fashion & Night Fashion Photoshoot | Alessandra Wong | Ann Siang Hill & Pinnacle @ Duxton |
| Night fashion Photoshoot | Alessandra Wong | Marina Bay Sands, under Bayfront bridge |
| Pre-wedding Photoshoot | Peter & Peiwei | Registries of Marriages Singapore, Fortcanning Park |
| Animal Photoshoot | Elmo & Eby | Indoor |
| Conceptual Photoshoot | Claire | Brunei Hostel |
| Fashion Photoshoot | Anastasia Butrim | Marina Bay Sands & Brunei Hostel |
| Bikini Photoshoot | Esther Choey | Kovan Melody |
| Couple Photoshoot | Michael & Valerie | Riverwalk Apartments |
| Children Photoshoot | Random | Tanjong Beach, Sentosa |
| Editorial Photoshoot | Ethan Leslie Leong | Maison Ikkoku |
| Lifestyle Photoshoot | Puang Shujuan | IKEA Alexandra |
| Boudoir Photoshoot | Selvy Sequence | Hotel Michael, Sentosa |
| Self Portrait | Skai Chan & Luckie | Indoor |
| Couple Photoshoot | Derrick & Ariel | Jurong Lake Park |
| Fashion Photoshoot | Vanessa Lum | Indoor & Carpark |
| Lifestyle Photoshoot | Vanessa Toh | Paris Ris Park |
| Dancing Photoshoot | Dance Channel | Dance Channel's dance studio |
| Conceptual Photoshoot | Christmas | Indoor |
| Fashion Photoshoot | Amelia Chang | Lorong Kampong Buangkok & Woodlands Waterfront |
| Conceptual Photoshoot | Maisie Chew | Pinnacle @ Duxton |
| Ao Dai Photoshoot | KT Pham | Duxton Plain Park |
| Fashion Photoshoot | Constance Huang | Bishan Ang Mo Kio Park |
| Fashion Photoshoot | Oh Yongpeck | Tiong Bahru and Sentosa Broadwalk |
| Fashion Photoshoot | Amelia Chang | Chinese Gardens |
| Animal Photoshoot | Luckie Chan | Indoor |
| Portrait Headshot | Joyce See | Joyous Nails @ Seng Kang |
| Children Photoshoot | Dchane | Joyous Nails @ Seng Kang |
| Children Photoshoot | Dylan | Joyous Nails @ Seng Kang |
| Couple Photoshoot | Random Couple | Botanic Gardens |
| Conceptual Photoshoot | Nicole | Pinnacle @ Duxton |
| Children Photoshoot | Jacob Christopher | Vivocity |
| Fashion Photoshoot | Amelia Chang | Sunsetway and Upper Selatar Reservoir |
| Conceptual Photoshoot | Puang Shujuan | Pinnacle @ Duxton and Duxton Plain Park |
| Conceptual Photoshoot | Maisie Chew | Chinese Gardens |
| Fashion Photoshoot | Famel Tay | Pasir Ris Park |
| Bikini Photoshoot | Jade Lee | Pasir Ris Park |