Beware! Someone by the name of Kevin Jones (asianmodelwork@gmx.com) is impersonating me.
Animal Photo Shoot - Luckie Chan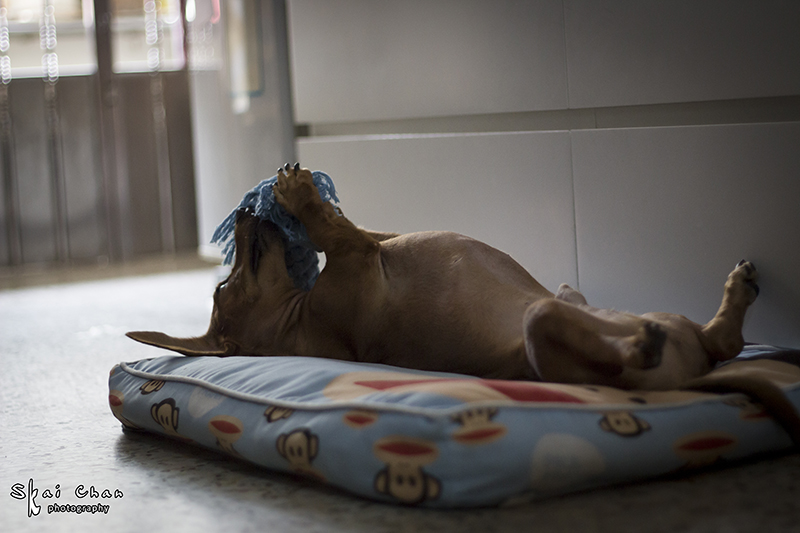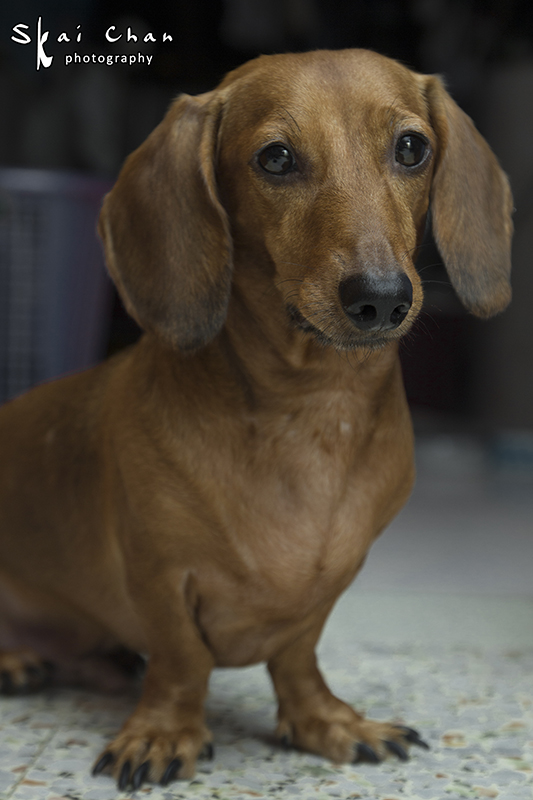 Commands:
1. Hand (paw)
2. High 5
3. Sit
4. Down (Flat on floor)
5. Roll
6. Fetch (item, toy)
7. Catch (toy)
8. Stay (food on nose)
9. Go/come
10. Carry (Sit in position)
11. Kiss kiss
12. Drink water
13. Mum Mum (eat)

Skill:
1. Beg for food
2. Steal food from dining table
3. Inspect everything, including unzipped bags
4. Fight for food
5. Act cute for girls
6. Cry like baby
7. Pick 4-D and Toto numbers

Venue:
Tanjong Pagar
Date:
Year 2013


Model:
Luckie Chan


Camera:
Canon 650D
Lens:
Tamron 17-50mm F2.8, Canon 50mm F1.8
Strobe:
Canon 430 EX-II
View my current photography equipment list
If you like the photos, do show some support by following my
Instagram
&
Facebook
, both at
@skaichanphotography
.
If you wish to own similar pictures of yourself like the album above, do
contact me
for discussion.
Other Photoshoot
| | | |
| --- | --- | --- |
| Conceptual Photoshoot | Valerie Ginzalez | Pearl's Hill Terrace |
| Corporate Photoshoot | Craft By 3 | Craft By 3 showroom |
| Fashion Photoshoot | Camille Roux | Duxton Hill |
| Conceptual Photoshoot | Ng Shinyi | National Museum of Singapore |
| Beauty Photoshoot | Ng Shinyi | Tanjong Pagar |
| Bikini Photoshoot | Ng Shinyi | Palawan Beach, Sentosa |
| Conceptual Couple Photoshoot | Kaidi & Ivy | Marsiling |
| Fashion Photoshoot | Shirlene Chew | Tanjong Pagar |
| Conceptual Photoshoot | Gilbert Lew & Shirlene Chew | Tanjong Pagar |
| Corporate Photoshoot | Nickolas Padgalskas | The Lawn @ Marina Bay |
| Corporate Photoshoot | Ghislaine Nadaud | The Lawn @ Marina Bay |
| Art Implied Nude Lifestyle Photoshoot | Eva | Indoor, Ang Mo Kio |
| Fashion Photoshoot | Constance Huang | LLoyd's Inn |
| Male Fashion Photoshoot | Gilbert Lew | LLoyd's Inn |
| Children Photoshoot | Vera | Ang Mo Kio |
| Lifestyle Photoshoot | Ivy Tan | Tiong Bahru |
| Fashion Photoshoot | Lovelle Cengiya | Gold's Gym @ NTU Alumni Club (Gold Wellness) |
| Yoga Photoshoot | Bai Jia Wang | Helix Bridge & Marina Bay Sands |
| Conceptual Photoshoot | Ivy Tan | Bukit Brown cemetery |
| Lifestyle Photoshoot | Charis Tan | Sunsetopia (Sunset Way) |
| Corporate Photoshoot | Wong Youer | Makeshift studio, Tanjong Pagar |
| Fashion Photoshoot | Shermaine Koh | Sengkang Riverside Park |
| Bikini & Monokini Photoshoot | Svetlana Dabizha | Siloso Beach, Sentosa |
| Corporate & lifestyle Photoshoot | Phang Tsang Wing | Ritz Carlton hotel |
| Fashion Photoshoot | Wanping | Portsdown Road water tank |
| Couple Photoshoot | Kaiwei & Stella | Punggol Ranch, Punggol Beach |
| Prewedding Photoshoot | Shengyang & Huiting | Banana Leaf Apolo (Race Course Road), Little India, Sunsetopia, Upper Seletar Reservior, Henderson Waves |
| Conceptual Photoshoot | Puang Shujuan & Tan Rouying | Tanjong Pagar |
| Lifestyle Photoshoot | Karina Cognomen | Kovan Residency |
| Implied Nude Yoga Photoshoot | Karina Cognomen | Kovan Residency |
| Fashion Photoshoot | Puang Shujuan | Duxton Hill |
| Art & Boudoir Photoshoot | Hannah Lee | Klapstar Boutique Hotel |
| Yoga Photoshoot | Sharon Ng En Hui | Vivocity |
| Glamour Photoshoot | Cheryl Alicia Chua | Bishan-Ang Mo Kio Park |
| Editorial Photoshoot | Boon Hui | Bishan-Ang Mo Kio Park |
| Corporate Photoshoot | Kyan Soo Wei Qiang | Indoor |
| Corporate Photoshoot | Tengy Gay Teng Yong | Indoor |
| Conceptual Photoshoot | Boon Hui | Gold's Gym, Lim Teck Kim outlet |
| Prewedding Photoshoot | Leslie & Sally | CHIJMES |
| Fashion Photoshoot | Erica Chan | Singapore Botanic Gardens |
| Fashion Photoshoot | Sirachar Ong | Little Guilin |
| Fashion Photoshoot | Angela Ni | LePark, People's Park Complex |
| Bikini Fashion Photoshoot | Martina Novotna | Tanjong Beach, Sentosa |
| Corporate Group Photoshoot | DPG (Prudential) Group | Prudential @ Scotts |
| Corporate Photoshoot | DPG (Prudential) | Prudential @ Scotts |
| Art Photoshoot | Kelly Lim | Gold's Gym, Lim Teck Kim outlet |
| Night fashion Photoshoot | Tan Rou Ying | Haji Lane |
| Conceptual Photoshoot | Nathalie Blue | Gold's Gym, Lim Teck Kim outlet |
| Conceptual Photoshoot | Constance Huang | Boat Quay |
| Cheerleading & Dancing Photoshoot | Jasmine Tan | Kallang Wave Mall |
| Maternity/Pregnancy Photoshoot | Monica Weng-Ong | Punggol Park, Indoor |
| Lifestyle Photoshoot | Emilia Yoyo Ngai | Tanjong Pagar Railway Station |
| Fashion Photoshoot | Beverley Angkangon | Coney Island |
| Travel Photoshoot | Ao Xuan | Southern Ridges |
| Lifestyle Photoshoot | Ao Xuan | Boat Quay |
| Editorial Photoshoot | Angie Mui | Home |
| Editorial Fitness Photoshoot | Jolene Chui | Gold's Gym Singapore, The Strategy |
| Lifestyle Photoshoot | Low Kah Yoke | Grand Copthorne Waterfront hotel |
| Fashion & Night Fashion Photoshoot | Marjorie Lining | Gardens by the Bay |
| Glamour Photoshoot | Rachel Liew | Fort Canning Park |
| Bikini, Lifestyle, Fitness Photoshoot | Beverley Angkangon | Siloso Beach, Sentosa |
| Pre-wedding Photoshoot | David & Jess | East Coast Park |
| Boudoir & Glamour Photoshoot | Jun | Tanjong Beach, Sentosa |
| Fashion Photoshoot | Alessandra Wong | Marina Bay Sands |
| Fashion Photoshoot | Joanne | West Coast Park |
| Animal Conceptual Photoshoot | Luckie Chan | Indoor |
| Lifestyle Couple Photoshoot | Tommy & Evelyn | Tiong Bahru |
| Corporate Photoshoot | Thomas Ng | ShuBox Design showroom |
| Prewedding Photoshoot | Ryan & Yuanzhi | Marina Bay Sands (MBS) & Gardens by the Bay |
| Lifestyle Photoshoot | Mitsuya Nakata | Concourse Skyline |
| Boudoir Photoshoot | He Ling | V Hotel Bencoolen |
| Fitness Photoshoot | Kayla Wong | Sentosa Broadwalk |
| Conceptual Photoshoot | Nathalie Blue | Labrador Park |
| Bridal Photoshoot | Jessyca Ang | Hortpark |
| Dancing Photoshoot | Vanessa Lum & Tan Jiamin | Pinnacle@Duxton |
| Dancing Photoshoot | Tan Jiamin | Pinnacle@Duxton |
| Dancing Photoshoot | Vanessa Lum | Pinnacle@Duxton |
| Fashion Photoshoot | Leila Louise | St Joseph's Church & National Design Centre |
| Couple Photoshoot | Brian & Claudia | Botanic Gardens, Orchid Garden |
| Bikini Photoshoot | Lovelle Cengiya | Novotel Singapore Clarke Quay |
| Bikini & Fashion Photoshoot | Bianca Pietersz | Tanglin View |
| Fashion, Glamour, Santarina Photoshoot | April | Botanic Gardens, Mount Faber, Vivocity Rooftop |
| Pre-wedding Photoshoot | Terry & Lynwen | Changi Airport, Punggol Waterway |
| Fashion Photoshoot | Joey Tay | Marina Barrage |
| Fashion Photoshoot | Nowell Tan | Marina Barrage |
| Fashion Photoshoot | Emily Chan | Marina Barrage |
| Night fashion Photoshoot | Lovelle Cengiya | Clarke Quay |
| Fashion & Night Fashion Photoshoot | Alessandra Wong | Ann Siang Hill & Pinnacle @ Duxton |
| Night fashion Photoshoot | Alessandra Wong | Marina Bay Sands, under Bayfront bridge |
| Pre-wedding Photoshoot | Peter & Peiwei | Registries of Marriages Singapore, Fortcanning Park |
| Animal Photoshoot | Elmo & Eby | Indoor |
| Conceptual Photoshoot | Claire | Brunei Hostel |
| Fashion Photoshoot | Anastasia Butrim | Marina Bay Sands & Brunei Hostel |
| Bikini Photoshoot | Esther Choey | Kovan Melody |
| Couple Photoshoot | Michael & Valerie | Riverwalk Apartments |
| Children Photoshoot | Random | Tanjong Beach, Sentosa |
| Editorial Photoshoot | Ethan Leslie Leong | Maison Ikkoku |
| Lifestyle Photoshoot | Puang Shujuan | IKEA Alexandra |
| Boudoir Photoshoot | Selvy Sequence | Hotel Michael, Sentosa |
| Self Portrait | Skai Chan & Luckie | Indoor |
| Couple Photoshoot | Derrick & Ariel | Jurong Lake Park |
| Fashion Photoshoot | Vanessa Lum | Indoor & Carpark |
| Lifestyle Photoshoot | Vanessa Toh | Paris Ris Park |
| Dancing Photoshoot | Dance Channel | Dance Channel's dance studio |
| Conceptual Photoshoot | Christmas | Indoor |
| Fashion Photoshoot | Amelia Chang | Lorong Kampong Buangkok & Woodlands Waterfront |
| Conceptual Photoshoot | Maisie Chew | Pinnacle @ Duxton |
| Ao Dai Photoshoot | KT Pham | Duxton Plain Park |
| Fashion Photoshoot | Constance Huang | Bishan Ang Mo Kio Park |
| Fashion Photoshoot | Oh Yongpeck | Tiong Bahru and Sentosa Broadwalk |
| Fashion Photoshoot | Amelia Chang | Chinese Gardens |
| Animal Photoshoot | Luckie Chan | Indoor |
| Portrait Headshot | Joyce See | Joyous Nails @ Seng Kang |
| Children Photoshoot | Dchane | Joyous Nails @ Seng Kang |
| Children Photoshoot | Dylan | Joyous Nails @ Seng Kang |
| Couple Photoshoot | Random Couple | Botanic Gardens |
| Conceptual Photoshoot | Nicole | Pinnacle @ Duxton |
| Children Photoshoot | Jacob Christopher | Vivocity |
| Fashion Photoshoot | Amelia Chang | Sunsetway and Upper Selatar Reservoir |
| Conceptual Photoshoot | Puang Shujuan | Pinnacle @ Duxton and Duxton Plain Park |
| Conceptual Photoshoot | Maisie Chew | Chinese Gardens |
| Fashion Photoshoot | Famel Tay | Pasir Ris Park |
| Bikini Photoshoot | Jade Lee | Pasir Ris Park |